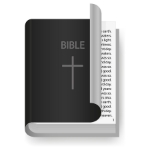 And we believe that this is appealing and genuine.
(PRWEB) December 17, 2012
Scriptures From the Bible.org is a Christian start-up website publishing content to help explain and interpret the meaning of Bible verses and scripture. It is a bit theological, a little reflective, notably fresh and original - and relies heavily on the words of a secret community (explained below).
While the website clearly covers themed Bible topics such as "Famous Bible Verses", "Christmas Verses", and "Bible Verses on Friendship" – like any other Bible commentary site; it hints at something that is more emotionally powerful for the reader.
"The content is layered in a clean, beautiful format, and focuses on abstract and meaningful article images that connect not only to the verse but the commentary of the anonymous Christian author… anonymous author? This is a curious angle the website has taken."
Alex Brookbank, founder, said, "We strive to create quality and impactful content that expresses messages of hope and wisdom that is written by unnamed individuals. We believe that this speaks to the strength of a united community and demonstrates the power of the average human being. And we believe that this is appealing and genuine."
The founding group intends to build the website into a Social Media application where users can comment, share, and submit their own theological commentary and reflective articles themed around Bible interpretation and ordinary understanding. In the spirit of their website, they asked to remain anonymous.
The Bible's most timeless verses are explained in an easy-to-navigate blog-type format that publishes new articles daily. The site is heavily integrated with Facebook and reached 1,000 Facebook followers within the first week of launching.
In the short-term it will continue to attract and help those of us that need a little reflection, a little wisdom, and a little faith to get us through the rest of the day.
Don't miss any more cutting-edge Bible commentary - it could be just what you need!