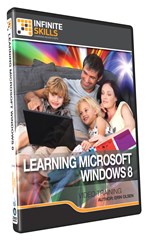 Learn Windows 8 From An Expert At Your Own Speed.
(PRWEB) December 17, 2012
Software training firm InfiniteSkills Inc. this week introduced its Learning Microsoft Windows 8 Tutorial, a introductory course for the recently released new version of the Windows operating system. Geared toward new and experienced users of Windows, the course is designed both as an overview of the new system and an in-depth resource for key new features.
Microsoft Windows 8 is a revolution in the history of the Windows operating system, placing a wealth of new opportunities in functionality at your fingertips.
Learning Microsoft Windows 8 Video Training Video is designed to give new users the insights of an experienced expert, allowing you to take advantage of important new capabilities right away.
Learning Microsoft Windows 8 Video Training
Course author Erin Olsen, a Microsoft Certified Instructor, holds a master's degree in education with emphasis on instructional design and technology. She has been a computer trainer since 1994 with Windows 3.1. Her training style is informed by real world experience running her own training business, PC Keys Technology Solutions Inc.. Her instruction is oriented toward the practical needs of everyday users. She has twice been listed as a finalist for entrepreneur of the year by the Idaho Business Review.
"I realize that not everybody needs the same training experience," Olsen says, "and so I try to create both unique programs and new ways of delivering the content so that it meets the needs of every person who needs my training."
Olsen's near two-decades of experience equip her with the insight and technical skill necessary to get her students up and running quickly and efficiently with Windows 8, learning new features and techniques in a matter of hours.
Users will learn work with the new tiles interface, use the apps bar and charms bar, and take advantage of new capabilities for managing contacts, messaging, and using photo and video features.
Olsen also explores the new file management system entitled File Explorer, which replaces Windows Explorer. She also offers an in-depth look at the video player and at the new features of Internet Explorer 10, the latest and greatest web browser for Windows 8.
Olsen also explores the new sharing features, new search options, as well as how to secure and maintain the operating system.
"I like to summarize Windows 8 with three active words," Olsen says, "simplify, streamline, and integrate. So whether you're a new user or an experienced navigator of Windows, I am excited to present Windows 8."
Free demo videos and a full list of course contents can be found on the Learning Microsoft Windows 8 Tutorial Video training page on the company website:
http://www.infiniteskills.com/training/learning-microsoft-windows-8.html
InfiniteSkills offers the Learning Microsoft Windows 8 Tutorial either as a DVD or a direct download from the company website at a retail price of $99.95. Though the compatibility of covered programs varies, InfiniteSkills tutorials are compatible with both Mac and Windows operating systems. Shipping is available around the globe. Additionally, InfiniteSkills tutorials are supported by project files which correspond to examples in the videos.
About InfiniteSkills Inc.
A leader in the field of software training, InfiniteSkills designs its courses on a task-oriented model. InfiniteSkills trainers teach complex skills by providing hands-on examples that can function as a reference for users as they carry out essential functions. InfiniteSkills offers a wide range of software titles available as DVDs, digital downloads, and in iPad editions, keeping with company aim of delivering professional training to customers anywhere they want to learn.