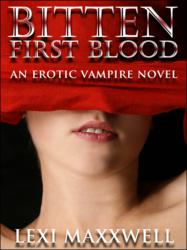 The thing I love about erotica is that it gives people ideas they don't really think about during the grind of their daily routine.
Las Vegas, NV (PRWEB) December 20, 2012
Everyone agrees that the holidays are stressful. With family, kids, shopping season that starts with a bloodbath and ends with a wallet, plus an elephant's weight in food (and cooking), most people are seeking asylum from the hustle and bustle.
Lexi Maxxwell gives her readers exactly that in every short story in her new holiday collection.
Lexi Maxxwell has celebrated every major holiday throughout 2012. With the year coming to an end, Lexi is now shifting her focus to the 2013 holiday calendar – with a fresh, reader adored erotic story to greet each one – while tying a bow around this year with the release of her 2012 holiday collection, "Lexi Maxxwell's Slutty Holidays 2012."
This collection, much like the rest of Lexi Maxxwell's high quality "Smut for Smart People", features thrills (and spills!) for nearly every holiday. From Valentine's Day vixens to Thanksgiving Day stuffings and Christmas day surprises, this collection is thick with characters and scenes that readers won't read once. Each page reveals fresh twists and turns as Lexi creates designs a landscape of pleasure for her quickly growing number of loyal readers.
Creating escape from holiday stress isn't the only treat readers get when they buy Lexi Maxxell's newest bundle. Those few precious moments that they'll get to themselves will be amplified by classic fantasies they can buy for their favorite coworker or friend, not just this holiday season, but birthdays or even "just because."
Lexi Maxxwell's Slutty Holidays 2012 aren't just for the typical Christmas present buying season. Give the roleplaying gift of a lifetime. These well written, sexy scenarios can bring readers perennial pleasure year round, for those lucky enough to be on the receiving end.
Lexi says, "The thing I love about erotica is that it gives people ideas they don't really think about during the grind of their daily routine. Everyone gets occasionally stuck. To get our sex lives back where they need to be, you need that extra spark, idea, or special kink to turn your day from mundane to unforgettable. People read about it, think about it, but never actually do it. That's the part that gets me." Lexi went on to say, "Troubled marriage is a global problem. Reading brings connection, and makes it easy to stitch what needs stitching."
Lexi encourages her readers to spread joy through erotic stories. "My biggest pet peeve is people who make you feel ashamed of basic, physical need. Relieves stress, and let happy hormones fly! Why be ashamed of that?"
Ms. Maxxwell's editorial calendar is packed with killer quality sexy smut, and she's kicking it off with the Lexi Maxxwell 2012 Slutty Holidays Collection on January 14, 2012.