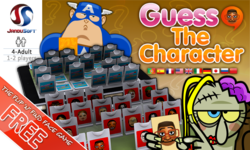 Barcelona, Spain (PRWEB) December 21, 2012
JanduSoft is proud to announce the release of their Guess the Character app for Android. The company has also released a Christmas update for their iOS version, which will include a free pack of new characters.
Guess the Character is based upon the famous "Guess Who?" board game and challenges one or two players to determine which face out of 24 possibilities is the opponent's character. The app encourages players to use the process of elimination and the asking of yes and no questions to successfully identify the correct character. After each question characters are removed from the board and the first player to correctly guess wins.
The game was designed for fathers to share with their children and provides a fun and practical context for the development of logic skills, traditionally the role of the male parent. Logic is used to stimulate children's core intellectual faculties. Guess the Character offers fathers informal opportunities to pass their logic skills and modes of thinking to their children, as well as allowing them to share in the wonder of the game's mystery and the triumph of a hard-won solution.
Feature Highlights:

Play the electronic, AI version of the board game "Guess Who?"
Compete against another player or let the Android/iPhone/iPad act as the opponent
Figure out the opponent's character by asking yes/no questions
Eliminate characters using the information gained from the answer to the question
Track and compare performance with the game's built-in stats function
Enjoy challenging, logic-based gameplay that is simple enough for young children
Multiple languages
A lot of characters. Pirates, Heroes, Christmas, Monsters and Classic
Language Support:

English, Spanish, Italian, Portuguese, German, French, Chinese, Japanese, Russian
Device Requirements:

Compatible with Android/iPhone/iPad (Universal application)
Requires iOS 4.0 or later or Android 2.3
30 MB, 15MB on Android devices
Pricing and Availability:
Guess the Character for Android/iPhone/iPad is free and available worldwide exclusively through the App Store or Google Play Store in the Games category.
Extra Links
Download from iTunes
http://itunes.apple.com/us/app/guess-the-character/id428832518?mt=8
Download from Google Play
https://play.google.com/store/apps/details?id=com.jandusoft.gtc
Download from Mac App Store
http://itunes.apple.com/us/app/guess-the-character!/id464656125?ls=1&mt=12
Facebook
https://www.facebook.com/JanduSoft
Twitter
@JanduSoft
About JanduSoft
Based in Barcelona, Spain, Jose Antonio Andujar Clavell is the owner of JanduSoft. He focuses on games for children and family, stimulating the intelligence of the parent's children. Copyright (C) 2011 JanduSoft All Rights Reserved. Apple, Mac OS X platforms, the Apple logo, iPhone, iPod and iPad are registered trademarks of Apple Inc. in the U.S. and/or other countries. Other trademarks and registered trademarks may be the property of their respective owners.
Contact:
Jose Antonio Andujar Clavell
Administrator
+34 657565440
press(at)jandusoft(dot)com