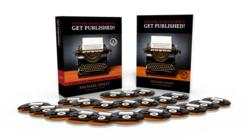 A step-by-step guide, not only to publication, but also to designing a book launch that creates the impetus a writer's work needs to achieve bestseller status.
Nashville, Tennessee (PRWEB) December 17, 2012
Renowned publishing insider Michael Hyatt has recently released an audio course called "GET PUBLISHED!" The course offers aspiring writers a comprehensive road map to publication and shares the myriad of insights Hyatt has amassed throughout his three-decades-long career as a publisher and author. Having penned this year's New York Times bestseller, Platform: Get Noticed in a Noisy World, Hyatt has not only experienced both sides of the publishing industry; he has also succeeded on both sides of the book publisher's desk.
A Writer Who's "Been There"
Despite his success, however, it hasn't always been easy. Because Hyatt, like many of the writers for whom his course is designed, has personally experienced the frustration of repeated rejections, he is in a unique position to help writers develop the same perseverance that he himself has had to muster to finally achieve success. Since he, like many other writers, has also experienced the disappointment of seeing one of his published works ignored, he can also relate to the almost-maddening frustration of the writers who need answers to the question of why their own published works haven't been well-received.
Says Hyatt, "Personally, I know how challenging it can be to succeed as an author. Whether you're struggling to find an agent or searching for a publisher, I've been there. My first book was rejected 29 times before it was finally accepted. It nearly stopped me dead in my tracks. What saved me was perseverance—and the belief that I could succeed. If I had only known then what I know now, it would have been a LOT easier."
An Impressive Resumé
Along with his experience in the fields of writing and publication, Hyatt is also a well-respected leadership blogger and consultant. His multi-dimensional career includes 25 years of public speaking at over 100 events, as well as appearances on over 100 television shows (several on major TV networks) and over 1,000 radio programs. With such an impressive resumé to his credit, the term "leadership expert" would seem appropriate for Hyatt, whose blog, "Michael Hyatt: Intentional Leadership," is one of the most popular leadership blogs in the world, boasting over 300,000 monthly visitors and well over a quarter-of-a-million regular subscribers.
The "GET PUBLISHED!" Course
"GET PUBLISHED!" is a step-by-step guide, not only to publication, but also to designing a book launch that creates the impetus a writer's work needs to achieve bestseller status. Hyatt's approach, which consists of a 21-session audio program and downloadable workbook, offers answers to writers' most pressing questions and provides in-depth instruction, along with practical action steps that writers can take to realize their dreams of successful publication.
The course is divided into three sections, appropriately titled "Get Ready," "Get Set," and "Go." The three sections of the audio course include four, seven, and 10 sessions, respectively. Taken together these sessions provide a robust study of the writer's journey to—and through—publication. More detailed information about the contents of each course session is available at http://www.GuideToGettingPublished.com.
Throughout the course, Hyatt focuses on practical, market-tested advice, rather than unproven theory. His own multi-faceted career as a writer, publisher, and literary agent, as well as a leadership consultant and speaker, has brought him a wealth of knowledge about every aspect of the writing business and about business in general. He has learned firsthand which principles work and which do not—a fact that has fully equipped him to provide the concrete strategies that other writers need to find a profitable forum for their own writing talent and a dependable means for getting their messages out to the world.
Whatever their niche or genre, writers who aspire to publish the next bestseller will find the guidance they need to navigate the treacherous waters of publication in Michael Hyatt's in-depth course.