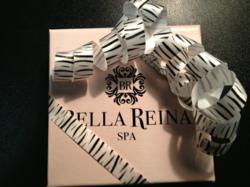 Bella Reina Spa presents the top most expensive spa gifts for splurging on wellness
Delray Beach, FL (PRWEB) December 17, 2012
Spa gift cards can take the stress out of gift-giving as, Bella Reina Spa presents the top most expensive spa gifts to put the splurge into "gifting". Splurging on spa gifts has never been easier with these "one of a kind" spa wellness programs that give "spa" all year long at this South Florida spa.
"Creating spa wellness programs that last the entire year is very important for busy clients and being able to gift them is even easier " said Nancy Reagan, CEO of Bella Reina Spa. Spa gift cards are available so that your spouse or loved one can purchase the gift card that gives the entire year.
Top Most Expensive Spa Gifts
#1 TWELVE Wellness Program-$12,000. TWELVE is 12 Monthly Anti-Aging Preventative treatments that include the Power Play Non-Surgical Facelift with four treatment boosters, the anti-aging manicure, the anti-aging pedicure and the body exfoliation peel. The TWELVE Wellness Program includes 12 days of 5 hours of the top anti-aging spa services, but it also includes a $250 monthly allowance for skin care and gratuity.
#2 FIFTY TWO Wellness Program - $14,000. FIFTY-TWO weeks a year is the perfect beauty day maintenance for the woman who takes care of herself from the inside to the outside. 52 spa massages with collagen eye masks followed by 52 spa manicures and 52 makeup applications and your beauty day is complete for the week. FIFTY-TWO also includes a $250 monthly allowance for skin care or makeup plus gratuity.
#3 TWENTY-SIX Wellness Program - $16,000. TWENTY-SIX utilizes the Results Spa Package to create 26 weeks of continued wellness from the inside. With the Microcurrent Facial, Eye Wrinkle Reducer Treatment, Collagen Lip Treatment, Wrinkle Reducer Arm Treatment, Slimming Infrared Body Wrap, Spa Massage (30 minute) and the Isotonix Beauty Blend, TWENTY-SIX creates perfect wellness all year long. TWENTY-SIX includes 26 spa manicures and 26 spa pedicures with a $250 monthly allowance for wellness products plus gratuity.
Spa gift cards for the Twelve, Fifty-Two or the Twenty-Six Spa Wellness Programs can be purchased online at Bella Reina Spa or by calling the spa at 561-404-7670. A spa gift card has long been the perfect holiday gift, as the gift of relaxation is so thoughtful. Now when it is combined with a year of spa treatments, you may have just aced this year's gift.
About Bella Reina Spa
Bella Reina Spa is the leading provider and definitive authority on beauty, wellness and spa treatments in the South Florida area. The spa is dedicated to providing outstanding services and anti-aging treatments, like the non-surgical facelift or the slimming infrared body wrap, to guests with busy lifestyles. Bella Reina Spa was created by Nancy Reagan, a nationally recognized expert in beauty, nutrition, weight loss, skin care and makeup. Nancy and Bella Reina Spa have been featured in the New York Times, WebMD, PC Advisor for her industry expertise and business success. To learn more about how Bella Reina Spa is constantly innovating spa services, programs and packages please visit Bella Reina Spa.com.