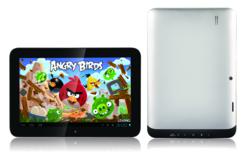 Idolian offers some of the best tablet PCs on the market that rival even the biggest tablet PC brand names. Certainly, for the money, there's no better Android tablet PC available
Newport Beach, CA (PRWEB) December 15, 2012
Idolian Mobile, a leading manufacturer and distributor of wholesale-direct-to-consumer portable tablet personal computers and accessories, announced today that its newest tablet PC, the STUDIO10, and the incredibly popular 9 inch tablet PC, the IdolPad 9, are both now available for purchase through Idolian Mobile's website (Idolian.com), Amazon and Sears.com, and both devices are available for shipment and delivery in time for Christmas.
Both tablets represent Idolian's newest line of tablets PC that will be featured next month at the 2013 International Consumer Electronics Show in Las Vegas, Nevada.
The STUDIO10 is part of the Idolian "STUDIO Series," which consists of three high-performance tablet models including the seven-, eight- and 10.1-inch screens all with Dual Core processors. The STUDIO10 specifically includes several features that rival similar tablets, including the iPad.
Idolian's STUDIO10 is equipped with a Cortex A9 processor with a speed of 1.6GHz and runs on Android 4.1 with 1 GB of RAM. Additionally, it features:

16 GB of flash memory
10.1-inch, 10-point capacitive type screen
a front camera
Extended micro SD up to 32 GB
Built-in speakers and microphone
Bluetooth capability
HDMI double frequency output
1280x800 pixel resolution
Also available now, the Idolian IdolPad 9 features a nine-inch, capacitive multi-touch LCD screen with a front camera and built-in Wi-Fi. In addition, it offers:

Cortex A8 processor with speeds up to up to 1.2 GHz
RAM DDRIII 512 M
Built-in 8GB
External Micro-SD card supported from 512MB to 32GB
Android 4.0 OS
Network 3G
1,080P videos supported
Both devices come with the following standard accessories including: charger, earphone, user manual, battery 4,500 mAh - 6,800 mAh with a life of between seven and nine hours, USB cable, OTG cable and gift box.
The devices, along with the rest of Idolian's Android tablet PC s, are some of the cheapest table PCs on the market, said Jay Kim, founder and chief executive officer of Idolian Mobile.
"Both devices have received incredibly positive feedback during the pre-order process," said Kim. "Idolian offers some of the best tablet PC s on the market that rival even the biggest tablet PC brand names. Certainly, for the money, there's no better Android tablet PC available."
Idolian Mobile offers a full line of cheap tablet PC s and accessories directly to consumers, businesses, educational entities and government agencies at deeply discounted and wholesale rates. Its technology is used by thousands of consumers who seek high-performance, low-cost technology. Additionally, Idolian provides an alternative to vendors who seek a certain level of customization as opposed to receiving stale out-of-the-box tablets.
Idolian Mobile's offerings also include tablet accessories, such as cases, charger cables, keyboards, storage devices and screen protectors, which are available through the company's website, Idolian.com. Free shipping is available on all orders.
Each of Idolian's devices, including the those in the Studio Series line, come with one-year limited warranties serviced in the U.S. Idolian also offers extended warranties and protection plans for sale only on Idolian.com. The Idolian Studio 10 retails for $258, which is half the price of a similar style iPad.
The STUDIO10 is sold for $258 on Idolian.com. For more information about the STUDO10, visit http://www.idolian.com/OnlineCatalog/STUDIO_10-details.aspx.
The IdolPad 9 is marked at $149. For more information about the IdolPad 9, visit http://www.idolian.com/OnlineCatalog/IdolPad_9-details.aspx.
For more information about Idolian, visit http://www.idolian.com or email support(at)idolian(dot)com.
About Idolian Mobile
Founded in 2010 and headquartered in Newport Beach, California, Idolian Mobile is a supplier of tablets and tablet accessories. Idolian.com is a division of Idolian Mobile Inc., a global wholesaler and retailer of tablet personal computers. Idolian provides discounted tablet PCs to customers worldwide.