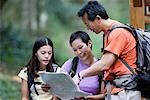 Family.my's 2nd Anniversary marks an important milestone in the portal's function as the leading Malaysian family portal not only for Malaysians in the country but also for everyone around the world.
Kuala Lumpur (PRWEB) December 19, 2012
Family.my, the leading portal for Malaysian families, recently celebrated its 2nd Anniversary of being the best and most informative resource portal by holding several activities and launching a few local community portals to further extend the coverage and reach to Malaysians around the country.
As part of its offering in promoting healthy and harmonious Malaysian families, Family.my launched 3 new local community portals which are the top travel destinations in Malaysia. They are Kuantan, Langkawi and Puchong, all of which are known for their respective attractions and more importantly their excellent environments for travelling and vacation among families.
In Kuantan.family.my, it serves as the local community voice for the people around the coastal town, which is the state capital of Pahang. Residents of the town known for its food and cultural heritage could connect with one another through this community site where ideas and resources can be shared and discussed. Travellers who are looking for places to visit or a place to stay could also obtain the relevant information through Kuantan Portal in terms of all the options available and the best time to visit. Information on health, children activities and other events happening around Kuantan are also posted there.
Meanwhile, the second anniversary celebrations also include the launching of the Puchong local community site which is one of the fastest and most rapidly developed suburban of the Klang Valley. Located only about 15 minutes away from the city centre, Puchong has much to offer in terms of food, accommodation, shopping and others. Despite being located near to the city centre, Puchong is still very homely and residential, making it an ideal environment for travellers to enjoy a homestay type of environments while offering some of the best places to stay among locals.
Another community site that was launched is Langkawi.Family.My which is one of the top travel destinations in the world. In Langkawi, information about accommodation, activities, things to do and places to visit are offered. Members who signed up were given discounts on selected hotels and homestays in Langkawi and Cameron Highlands during the launch period.
Family.my recently added a new feature in the portal where Malaysia homestay accommodation option is offered. This is a new service that bridge homestay owners to anyone who is travelling to the respective places. As homestay accommodation is growing in popularity, more and more travellers prefer to stay in a home-like environment instead of the usually posh hotels and resorts as they are more authentic and traditional. A network for homestay owners to offer their services is provided in Family.my while travellers could also choose and select which homestay option they prefer.
Health is one of the primary elements in Family.my and in promoting better wellbeing and fitness among Malaysians, a dedicated division on this aspect was launched as part of the event. Family.my conducted an internal survey on most health products that are available in Malaysia and it was found that supplements from US-brand Usana Health Sciences are among the most effective. Hence, a dedicated channel on Usana Malaysia products was developed to explain in detail all the products offered and how they can help Malaysian families enjoy a healthier lifestyle and practices. Tips on what to take and exercising are also provided in this section.
Family.my also launched a new feature on home design and living environments to commemorate its third year offering the best services to Malaysian families. This is an essential segment that promotes a conducive living environment for families. From home furnishing to painting of walls, decoration for kitchen and gardening, this is one channel in Family.my which draws some of the highest visits as members are able to learn about the best Malaysian designers to hire within the home while offering advice to others who need and require them.
To complement the current list of hobbies and general interests, a new channel for automotive lovers and enthusiasts was added. Now Family.my members who like Malaysia cars or are interested to learn more about maintenance of automobiles will be able to discuss ideas and opinions with each other through this specially designed channel while there is also a marketplace for families around Malaysia to buy and sell used vehicles. Special promotions and programmes like gatherings, new car launches and such are also included in this segment.
The celebration of Family.my's 2nd Anniversary was further extended and made more memorable with the launch of a new flagship segment of the Malaysian law channel. The new iconic segment will be part of Family.my's latest and most exciting offerings where Malaysians are provided with the platform to discuss and seek advice on legal matters like divorce issues, Family Act, Will writing and others. This is an important and needed step in promoting more harmonious communities where Malaysians will know about the law surrounding them and gain advice from members who are experienced and qualified.
Family.my's 2nd Anniversary marks an important milestone in the portal's function as the leading Malaysian family portal not only for Malaysians in the country but also for everyone around the world. After 2 successful years, the new segments launched during this celebration is targeted to offer more services to Malaysians and widen the reach to more in the community as Family.my continues to play an important role in Malaysian communities into the next year.