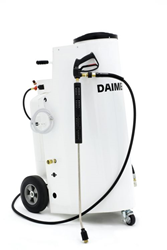 Daimer® is excited to offer the Super Max™ 9000SCW a durable, efficient and drastically more powerful 1500 psi, up to 250ºF mobile car wash machine that is completely safe for paint, and guaranteed to simplify ...
Woburn, MA (PRWEB) December 15, 2012
Daimer Industries, Inc.®, the internationally renowned American brand name in powerful and high performance auto detailing equipment, including high grade steam car wash machine models, portable carpet cleaning machines, stationary and portable commercial steam car wash equipment, and industrial hot water pressure wash systems with hundreds of different versions sold to customers spanning the globe within over 200 countries, is releasing its Super Max™ 9000SCW, an advanced car wash machine specifically designed for auto detailers, who are completely exasperated at using mops and buckets, and the resulting slower and more ineffective results. Viable alternatives have been unavailable until now.
"Many car detailing and car wash pros clean a large number of cars on daily basis. In order to maximize productivity, reduce cleaning time, and ensure excellent results, these auto detailers must be equipped with better, more powerful steam car detailing systems," says Matthew Baratta, spokesman for Daimer Industries, Inc.®. "Daimer® is excited to offer the Super Max™ 9000SCW a durable, efficient and drastically more powerful 1500 psi, up to 250ºF mobile car wash machine that is completely safe for paint, and guaranteed to simplify the most challenging car wash applications within both auto detailing centers and in mobile applications."
Approximately 67 percent of car owners in the U.S. visit car wash centers roughly once every two weeks to have their cars professionally cleaned. Cars blanketed in dust do not present a considerable challenge for car cleaning professionals. However, tough deposits such as tree sap, bugs, mud, and grime on vehicle exteriors can be extremely difficult to eliminate. Excessive scrubbing or the use of harsh chemicals may pose a risk of damage to the car paint. Cold water based cleaning is definitely no match for higher temperature equipment.
Car cleaning experts are unable to resort to conventional steamers or pressure washers for vehicle detailing applications. Lower powered steamer machines do not emit adequate pressure levels and moisture content to effectively clean car exteriors. In addition, high pressure levels between over 3000 psi emitted from traditional pressure cleaners may seriously damage vehicle exteriors. A perfect blend of these two categories of machines is exactly what car detailers have been waiting for.
Daimer®'s Super Max™ 9000SCW combines the best aspects of steamers and pressure wash systems to offer the right cleaning system for auto detailers. It is an effective steam car wash system capable of managing the most challenging applications in car detailing. The company caters to the power options of car detailers in the U.S. as well as those within foreign countries using the same power as the U.S. The machine comes with 60Hz, 220-240 volt power, and operators can plug into an appropriate wall connection, or else use a generator.
Extremely high flow rates can lead to unnecessary water wastage and potential paint damage to vehicle exteriors. The Super Max™ 9000SCW, therefore, features a fantastic flow rate of 2.8 gpm that guarantees efficient cleaning with lower water consumption, and no damage to vehicle exteriors. The machine's superior temperature combined with a 1500 psi pressure contribute towards the unmatched cleaning power of Daimer®'s car wash equipment.
Tri-mode temperature options make the Super Max™ 9000SCW highly versatile and capable of ejecting steam, cold water, or hot water as per the user's specific needs. The mobile car wash machine comes standard with heavy duty stainless steels coils for the ultimate in durability and longevity. The machine converts cold water into wet steam within about 30 seconds. The 9000SCW creates temperatures of up to 250ºF to help quickly clean some of the most difficult dirt, mud, ice, and other deposits on vehicle exteriors. The Super Max™ is not intended to be used to clean car interiors since wet steam is a mixture of water and vapor.
The steam car wash machine includes the basic accessories needed for car washing. A trigger wand, a variety of nozzles for various spray patterns, and a 25 foot long steam hose are all packaged with the Super Max™. Longer hoses are available upon request.
For Additional Information:
To obtain further details about the Super Max™ 9000SCW, visit the company's website, or call Matthew Baratta at (888) 507-2220. The machines are exported globally to most international countries.
About Daimer Industries, Inc.®:
Daimer Industries, Inc.® is a world leader in advanced cleaning machines that include van and truck mount carpet cleaning equipment, industrial hot water pressure washer, vehicle detailing systems, hard floor cleaners, commercial carpet shampooer systems, high flow vapor steam cleaners, and other cleaning equipment designed to help maintenance professionals clean better within virtually all industries around the globe.
Watch Steam Car Wash in Action: http://www.youtube.com/watch?v=eDDUFcFoiV4