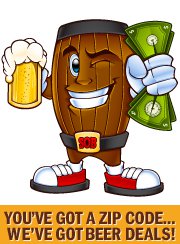 A few ... interesting craft brews to celebrate the last few days on Earth.
Houston, TX (PRWEB) December 17, 2012
Doomsday prophets warn that the end of the Mayan calendar is near. Even though scientists have repeatedly refuted the idea that the world will end on Friday, December 21st, 2012, beer brewers have had a blast with the concept. SaveOnBrew.com – the internet's only beer price search engine – recommends a few of the most interesting craft brews to celebrate the last few days on Earth.
Craft beers by Newport Storm, Great Basin Brewing Company and Thirsty Dog Brewing use Mayan ingredients to give their brews a distinctive flavor. Corn, chilies, cocoa nibs and blue agave were used in Newport Storm's "Annual Release '12" beer. Maize, honey, vanilla beans, cocoa nibs and habanero chilies were added to Great Basin Brewing's "Mayan Maybe?" beer. Thirsty Dog's "Mayan Last Dog" blends bold black beer with honey and cocoa nibs.
"It sounds like the strangest thing to have something like hot peppers in a beer," says SaveOnBrew's Mark Davidson, "but today's craft brewers go through great lengths to add the right types of malt, hops and complementary flavors to balance their beer. As it turns out, the rich cocoa notes negate a lot of the spice -- and given the right texture, it actually goes down quite smooth."
Another option for "end of the world beer" is being offered up by Elysian Brewing Company. Since last January, they've released one new flavor (as part of their "Twelve Beers of the Apocalypse" series) on the 21st of the month. CEO Joe Bisacca explained that he approached the task with one question in mind: Which 12 beers would he want to make before he dies? The end result is a bunch of unique beers that contain everything from sour persimmons and dandelion leaves to blood orange puree and five different types of chili peppers. Mixed cases are currently being sold for charity.
"What we're finding at SaveOnBrew is that it can be hard to find some of these small batch beers," admits Davidson, who is working around-the-clock to add to his massive online database of beer sales nationwide. "A more widely available option we list at SaveOnBrew is Shock Top End of the World Midnight Wheat." He says Shock Top generally appeals to Blue Moon fans, but this particular release includes the unique taste of chocolate malt, chilis and spice.
To find beer prices and additional craft brew suggestions, SaveOnBrew.com.
About SaveOnBrew.Com: Founded in 2010 to help thirsty beer drinkers across the United States find the lowest advertised prices for one of the world's most popular beverages.