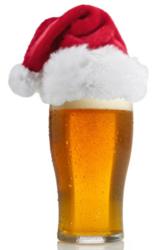 Even if people don't purchase the exact items we suggest, it gets them thinking in the right direction
Houston, TX (PRWEB) December 18, 2012
While Christmas certainly dominates in terms of gift-giving, it only ranks third in beer-buying holidays, coming after Memorial and Labor day. Last Christmas, Americans purchased 54.3 million cases of beer, according to Nielsen ratings. With beer being a 100 billion dollar industry, there is quite the demand for beer-themed gifts for the hard-to-buy-for beer lover.
SaveOnBrew.Com, billed as "the world's only beer price-search engine," has compiled a list of gifts that can still be under the tree (or next to the Menorah) so that even the most finicky beer-lover will smile on the big day.
"Themed baskets are really thoughtful and fun ways to approach holiday gift-giving," explains founder Mark Davidson. "We spent an enormous amount of time putting together a list of the best beer-related products you can get for that special someone. SaveOnBrew strives to represent all things beer and this compendium of gifts is just one more extension of that."
"If you have a zip code, we have beer prices for you," says Davidson. His company polls beer prices at more than 50,000 liquor, convenience and grocery stores nationwide with more being added every day. At any given time, there are between 250,000 and 300,000 beer deals listed, and since opening their doors in 2010, they've published more than 30 million beer deals.
"We got a great reaction to our list last year, and we've made some key changes this year to broaden the scope to fit just about any budget. Even if people don't purchase the exact items we suggest, it gets them thinking in the right direction."
This year, among other things, beer lovers will find including reusable "Beer Saver" silicone bottle-caps, the multi-functional Barbuzzo Beer Hammer, and Duffy's Brew Original Beer Shampoo, a 1-liter Glass Beer Boot, the Beer Bottle Toilet Flush Handle, and the Guinness Pewter Beer Tankard. Everything one could ever want for homebrewing can be found in the list as well, Davidson says.
About SaveOnBrew.Com: Founded in 2010 to help thirsty beer drinkers across the United States find the lowest advertised prices for one of the world's most popular beverages.