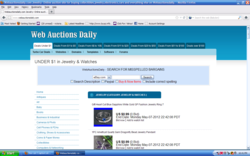 Holiday deals: buy cheap items and resell for profit.
Lansing, Michigan (PRWEB) December 19, 2012
On Friday, WebAuctions Daily announced that the store has introduced new, last-minute Christmas sales just in time for late shoppers. Items rolled out include the Nintendo Wii U(Latest Model) - Deluxe Set 32 GB, the Apple iPads mini 16GB for up to 45% off (including the new Canon Powershot camera), and up to 60% off on grills (indoor & outdoor) and appliances.
Many of the deals available include games, consoles and accessories are on sale for up to 50% off. The store also has a variety of DVD and Blu-ray movies and TV shows available for up to 60% off on shows such as The Dark Knight Rises, The Walking Dead, Game of Thrones, The Avengers and a variety of WWE titles.
For more information, please visit webauctionsdaily.com.
About WebAuctions Daily -
WebAuctions Daily is a leading online e-commerce provider of electronics which range from tablets, PCs and cameras to video games, DVDs, Blu-Ray Discs, appliances, lawn and garden products, IT systems and many more. The company recently began its initial expansion into clothing and jewelry and will continue to expand over the next several months.