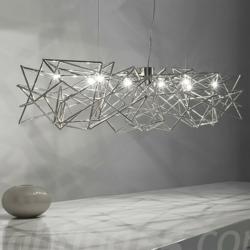 NEW Etoile - a mixture of light and shadow
Tarpon Springs (PRWEB) December 18, 2012
Lighting55.com.au is all set to add a bit of Italian sparkle in people's lives as they add Terzani lights to their online store. Etoile, a limited edition product line from the Italian light mogul is up for grabs with free international shipping. Terzani offers a range of the finest hand crafted metal embellishment that transforms any interior to the center of attraction in any home or commercial space. What buyers can look forward to is the added bonus of first class customer service from Lighting55 Australia. As mentioned by Ingo Schaer, president of the web store, these lights, by their singular beauty, stoke the creative fire in interior designers, architects, and home owners who appreciate sophisticated home lighting.
Lighting55 unveiled the Etoile range from Terzani that features modern suspension lights. These lights carry Terzani signature twinkles. For instance, there are suspension pendants with nickel intersections which produce a light and shadow effect, at once striking and relaxing. A total of 16 halogens are used to light up the living space. In another Etoile model, the suspension light creates moving shadows in all directions as viewers move around the fixture. This uses 8 halogen lights and is certified by CE. Etoile lights are highly energy efficient and do not add heavily to monthly home energy bills. Apart from this light line, Terzani offers chandeliers, wall scones, recessed lighting, floor lamps, and ceiling lights. Each model is available from Lighting55.com.au and is shipped with complete product security. Terzani offers lights for the complete home. Kitchens, baths, bedrooms, living rooms, hallway, patio, driveway, and door fronts are just the right places to install the lights.
The craze for Luxurious Italian lights has always been around and buyers are not complaining. In fact, Lighting55 customers are extremely pleased with the company's sales and shipment support. Fiona, a Sydney resident was impressed with the company's attention to every customer order and a fine international shipping system. She expressed her joy, "It has been immense pleasure buying from you. The entire process has been prompt and excellent. I look forward to have more dealings with your company." Like Fiona, there are several satisfied customers in dozens of global destinations where Lighting55 has introduced exquisite lights for their homes.
Maryanne, an interior designer from Melbourne said that she always recommended Lighting55 lamps for her customer in Australia due to their reliability. "Excellent, immediate response, great communication, helping attitude, and deliver on time", is what she had to say about their customer support and product quality.
Lighitng55.com.au is one of the few prestigious online stores to be awarded the AAA rating by the Better Business Bureau and is a thriving web store for sourcing eclectic modern home lighting fixtures. Staff electricians provide phone troubleshooting for installation problems. The company offers free shipment for any order above $500.