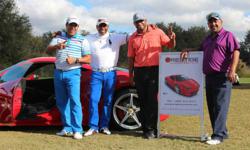 Orlando, Florida (PRWEB) December 17, 2012
Prestige Luxury Car Rentals joined other Orlando area business executives for a day on the green at the GMF Dunes Invitational Golf Invitational December 7th.
The GMF Dunes Invitational is an annual, private event held exclusively for key Orlando and Central Florida area senior hospitality executives. Select senior executive members from the hotels and resorts industry, guest services industry and corporate businesses were invited to join GMF Founder George Fakhoury and GMF executives for a day on the green at Mystic Dunes Golf Club.
Established in 1995, GMF Consulting, Inc. specializes in sales, marketing, customer service and event planning consulting services for a variety of clients. Fakhoury is an active member of the Central Florida business community. Through GMF Consulting, he exercises a strategy to build a solid and more recognized business relationship within the hospitality industry and other industries in the Central Florida business community.
"The Prestige executive team was thrilled to be a part of this year's GMF Dunes Invitational," says Prestige Business Development Manager Xylina Roman. "We have been actively seeking opportunities to be involved in the Central Florida business community, and participating in events like this is always a welcome diversion for our team.
"GMF is a respected leader in the business community and it's a pleasure to spend time with their team, especially on a beautiful course at the Mystic Dunes Golf Club."
Prestige Owner Carlos Duarte took a rare hiatus from business to attend the tournament with guests.
Prestige staff members are available from 8 am to 8 pm daily at the Miami showroom. For more information about Prestige's fleet of exotic luxury and sports cars, visit the Prestige Luxury Car Rentals website, or call 305.513.9711 (or toll free 1.888.513.9711).
About Prestige Luxury Car Rentals:
Since 2004, Prestige Luxury Car Rentals has been providing exotic luxury vehicles to customers seeking the ultimate car rental experience. Prestige's professional staff all share a genuine passion for the world's finest automobiles, and that passion translates to superior customer service with every rental. Making sure customers have fun and relish their dream car adventure is top priority.
In addition to its Miami base, Prestige Luxury Car Rentals has expanded its showroom locations to Orlando and Atlanta. The Orlando location services Northern and Central Florida, and the Atlanta branch services North Carolina, South Carolina, Tennessee and (with some limitations) New Orleans. All three locations offer a fleet of exotic luxury and sports cars including Aston Martin, Audi, Bentley, BMW, Cadillac, Corvette, Ferrari, Hummer, Jaguar, Lamborghini, Land Rover, Maserati, Mercedes Benz, Mini Cooper, Porsche and Rolls Royce.
# # #