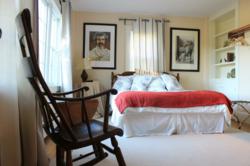 150 Grand Prize winners will each get the same Christmas present: 4 days and 3 nights of free room accommodations at the writer's retreat ... a $492.60 value.
Rochester, VT (PRWEB) December 17, 2012
How do you convince 150 published and non-published authors, all seasoned and sophisticated grown-ups, that Santa Claus exists? For Vermont-based When Words Count Retreat, the answer is simple: Sponsor a huge Sweepstakes, with no less than 150 Grand Prize winners, and announce them all on Christmas Day!
Each Grand Prize winner in the When Words Count Retreat Holiday Sweepstakes will be receiving the same Christmas present: 4 days and 3 nights of free room accommodations at the writing destination, which opened its doors here this past October, in a picturesque hollow in the heart of Vermont's Green Mountain range. The prizes, which can be used for one visit between January 2nd and May 17th of next year, all carry an average retail value of $ 492.60 – making the giveaway's overall price tag $73,890.00. (Each winner also may bring a guest.) Authors will have from 8 a.m. EST today until 3 a.m. EST, Monday, December 24th to enter the sweepstakes.
"We may not be sliding down chimneys, in true Claus-like fashion, with full white beards and bundles of gifts slung over our shoulders," says When Words Count Retreat CEO Steve Eisner, "but the effect of our news should be largely the same. What's more," he adds, "this Santa won't be expecting cookies and milk."
When Words Count Retreat will announce its Grand Prize winners on Christmas Day through a public posting on its Facebook page and directly to the winners, via phone and email. Eisner says he expects interest in the sweepstakes will be intense -- but not merely because of the lure of a 'sweet deal.' Since October, he says, more than 40 authors have visited the retreat and a considerable number of them have come a long way to do it: from Virginia, Iowa, Nova Scotia and Minnesota. Several writers, who live in even more distant locations, have recently scheduled visits of their own.
"We offer something increasingly rare in today's world and something writers long for: uninterrupted solitude and freedom from daily demands and distractions. Our guests find life on our 16.5 acres and the surrounding hollows incredibly liberating and highly conducive to writing."
Guests who have come to write and to participate in the retreat's highly customized author workshops. often describe the retreat, and their experiences there, in glowing terms, calling it everything from "a literary slice of heaven!" to "the quietest, most peaceful place I have ever been to in my life!"
They also have raved about the retreat's meal service (not part of the prize offer), a necessity in a setting located more than five miles from the nearest restaurant. Guests purchase a daily meal package for $55 per person that includes a country breakfast, a farm lunch and a gourmet dinner. All food is locally sourced, and artfully prepared, by Chef Paul Krcmar.
Anyone 18 years of age or older, who has published or is currently writing a book and who lives in the United States or Canada, may enter the When Words Count Retreat Holiday Sweepstakes simply by clicking here. (Proof of authorship is required.)
About the company: When Words Count Retreat, in Rochester, Vermont, is a writer's retreat located at Mountain View Farms, a former working farm that served, for decades, as a successful country inn. Authors Steve Eisner, the retreat's CEO, and Jon Reisfeld, its General Manager, provide extensive author coaching services and run an innovative, advanced writer's workshop that helps authors rapidly develop their book concepts and manuscripts for submission to agents and publishers.