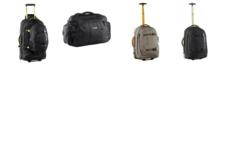 The trolley bags have the practical facility to tuck the harness straps away
Kent (PRWEB UK) 17 December 2012
The Caribee FastTrack Series is developed to offer travellers an outdoor bag that is lightweight and fully functional. The combination of nylon materials brings some protection from outdoor damp. The attached Daypack features the ability to be removed by simply clipping off. The trolley bags have the practical facility to tuck the harness straps away safely while using the trolley handle. The ergonomically padded harness brings comfort without causing bruising on the back or hip during your journey.
The pockets provided to organise all your personal belongings are so practical, it makes it really easy to pack. The sizes are designed to cater from a cabin size working its way through a 45cm, 75cm and finally an 85cm. The larger bags provide a base zippered shoe compartment. The trolleys are equipped with oversized all-terrain wheels and inside include waterproof toiletries kit. The cabin size bag provides a section for a laptop and this has EVA Shock Guard padding. The front pocket has further internal sections for tickets, wallets phones etc.
Caribee manufacturers continue to provide bags and cases that are built for the rough and rugged life. This name has become a reliable name for style and reliability.
Luggage Superstore' s established site is in West Kingsdown, Kent. Their aim is providing competitive prices of the highest quality luggage and top calibre Customer Service for online luggage shopping.
Trina Chee-a-kwai
Luggage Superstore
01474854666
Email Information