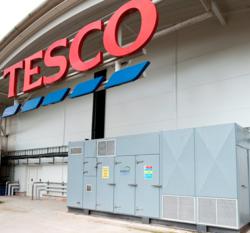 Low carbon combined heat and power projects by ENER-G have won two out of five categories in a major industry award scheme, receiving high commendation in a third category.
Manchester, UK (PRWEB UK) 17 December 2012
ENER-G and partner Tesco received the Combined Heat and Power Association's (CHPA) Innovation Award for developing the compact ENER-G Universal combined heat and power (CHP) system. In addition, ENER-G's CHP infrastructure partnership with Loughborough University won the Campus, Community and Residential Award, while the low carbon CHP programme, undertaken by ENER-G across multiple GlaxoSmithKline sites, was highly commended.
Alan Barlow, Managing Director of ENER-G Combined Power Ltd, said:"This triple success is particularly gratifying as it demonstrates ENER-G's ability to supply customers of all sizes and in all sectors with innovative, market-leading technologies - helping to reduce both costs and carbon emissions."
ENER-G responded to a requirement by Tesco to provide a smaller footprint CHP system that offered the same energy cost and carbon savings as larger units, but was faster to install and commission.
A compact external fully packaged combined heat and power Universal product range was developed. This has preserved the 90% efficiency and low carbon performance of large containerised cogeneration systems within an aesthetically appealing weatherproof enclosure that is approximately 40% smaller, 3.5 tonnes lighter and 5dBA quieter.
Tesco has introduced the petite new ENER-G Universal CHP system to 27 UK stores so far.
"We constantly strive to reduce our carbon footprint and the new Universal CHP system is key to that goal", said Dean Pearmain, Group Buying Manager (Renewable Energy Initiatives - Corporate Purchasing) Tesco Stores Ltd. "We are very proud to have inspired this UK innovation that helps us save valuable space and looks attractive. It comes fully packaged for fast installation and connection to our utilities, which is a major advantage when you have tight store opening deadlines to meet."
ENER-G designed, built and installed a 1MW CHP system at Loughborough University's Hollywell Park conference centre in 2009. This replaced an existing energy centre, but costs were kept lower by re-using some of the existing infrastructure. The project was financed under ENER-G's Discount Energy Purchase scheme, with no upfront cost to the University and capital expense recovered through purchase of the lower cost energy.
In 2011, ENER-G was appointed to supply a 1.6 MWe CHP system for the main campus, supplying heat and electricity to the whole of the university site. Keeping an eye on costs and time, ENER-G supplied a containerised unit, rather than building an energy centre, with site installation completed in six weeks.
Greg Watts, Energy Manager for Loughborough University, said: "The ENER-G CHP systems provide a very good solution for heating and cooling. Since the first ENER-G system was commissioned in February 2009, it has achieved very good reliability with over 90% availability. During the first year of operation there were £150,000 worth of financial savings and 1800 tonnes of carbon dioxide savings which is key to the University's aims to reduce carbon and environmental impact."
ENER-G has been working with GlaxoSmithKline (GSK) for the past three years and together have installed over 20MW of CHP generation at multiple sites across the UK. This commitment from GSK to saving energy and reducing carbon emissions was recognised by the CHPA, with the partnership being highly commended in the Industrial and Commercial category.
ENER-G offers the broadest combined heat and power product range (4kW to 10MW) in the UK market and has accumulated more than 30 million hours of operating experience across 1,400 installed cogeneration systems – powered by natural gas, biogas, diesel, propane or biodiesel.
Now in its fifth year, the CHPA Awards showcase achievement, innovation and best practice from across the sector. CHPA Director, Graham Meeks, said: "These awards demonstrate that green is working, with investment in energy efficiency making real business sense as we pull out of recession. It is very positive to see the extent to which the industry has responded to the present economic difficulties, making investment in CHP systems increasingly affordable and making their operation increasingly flexible.