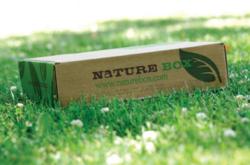 San Carlos, CA (PRWEB) December 18, 2012
As America's hunger problem hits home this holiday season, NatureBox, a provider of healthy snacks, today announces that in its first year of operation, that it has now donated 50,000 meals to help feed the millions of Americans who go hungry every day. For every box delivered to its customers throughout the year, NatureBox makes a donation to Feeding America, the nation's leading anti-hunger organization. The Company's total donations to date translate into approximately 50,000 meals served to the hungry.
"Hunger in America is on many people's minds at this time of year, but for the more than 49 million Americans at risk, including 1 in 4 children, it's the reality every day of the year," said NatureBox Co-founder and CEO Gautam Gupta. "Our company mission is to provide healthier eating choices, and the basic right to have enough food on your plate is fundamental to this. NatureBox is growing quickly, and we look forward to doing more for our community and partnering with organizations like Feeding America to address the hunger problem," said NatureBox Co-founder and CEO Gautam Gupta.
NatureBox distributes its own brand of nutritionist-approved, healthy foods to meet the exploding demand for healthier choices in the $64B snack food market. NatureBox's private-labeled snacks are hand picked each month and delivered in a recyclable snack box. Each NatureBox includes 15-20 servings of 5 items, curated by a nutritionist, based upon a seasonally based health and wellness theme. The snacks are sourced from local growers and independent food suppliers across the U.S. Every snack under the NatureBox brand is free from high fructose corn syrup, hydrogenated oils, trans fats and artificial sweeteners, flavors, and colors. The cost is $19.95 a month. Consumers interested in subscribing can visit http://www.NatureBox.com and can use the promotion code "healthy" to save $5 off their first order.
About Feeding America
Feeding America provides low-income individuals and families with the fuel to survive and even thrive. As the nation's leading domestic hunger-relief charity, their network members supply food to more than 7-million Americans each year, including 14-million children and 3-million seniors. Serving the entire United States, more than 200 member foods banks support 61,000 agencies that address hunger in all of its forms. For information on how you can fight hunger in your community and across the country, visit http://www.feedingamerica.org. Find us on Facebook at facebook.com/FeedingAmerica or follow our news on Twitter at twitter.com/FeedingAmerica
About NatureBox
NatureBox is a national provider of healthy snacks, distributing its own brand of nutritionist-curated foods to address the exploding demand for healthier choices in the $64B snack food market. NatureBox takes the guesswork out of healthy snacking for its customers and offers them new discoveries every month with healthy snack products that can be difficult to find in retail stores. With a mission to address the obesity epidemic in America, the Silicon Valley based, e-commerce company was co-founded in January, 2012, by two college friends, Ken Chen and Gautam Gupta, who struggled with obesity throughout his childhood. More can be found at http://www.naturebox.com.
###