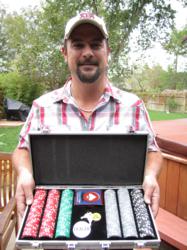 We're looking back with a lot of gratitude on a great year and trying to give back to those who helped make it so successful.
College Station, Texas (PRWEB) December 17, 2012
The Texas Poker Store has had a great year and owner and Chief Dealer, Jim Paris, wants to celebrate by extending their successful discount-for-the-holidays campaign through the month of January.
"It's just another way to thank our customers for their support of the Texas Poker Store," says Paris. "They not only turn to us for their poker supplies, but they read our blog and follow us on Twitter and Facebook. We don't know a better way to show our gratitude."
The Texas Poker Store has been engaging their customers and supporters all year in a variety of ways. During the college football season, they tweeted out "predict the score" contests whenever the Texas A&M Aggies played one of their SEC conference rivals. Whoever predicted the closest final score first won a prize.
"Of course, we didn't always have a winner," say Paris. "But this season we awarded one prize to Francisco Navarro, who predicted the closest score in the Texas A&M Aggies vs. Missouri Tigers game and walked away with a set of Copag Poker Cards and another prize to Chris Farrar, who won a 300 poker chips set with his prediction in the Texas A&M Aggies vs. University of Arkansas Razorbacks game."
They also pushed out a "Click It To Win It" Facebook campaign as part of their continuing marketing effort. Two big winners were Texas A&M student, Sara Dunlop, a member of the student-run organization, CARPOOL, and Hanna Hasha from Conroe, Texas. Sara won a Texas Holdem mirror and Hannah went home with a set of poker chips.
"Those were just some of our big winners," Paris states. We also have winners every day because of people who find us through the Waco and BCS local business community online advertising boards and claim their Texas Poker Store key rings. We've probably sent out at least 75 of those in the last few months."
In addition to running contests for prizes, the Texas Poker Store has also been involved with charitable events. Earlier this year they were asked to put together a poker tournament for Peter Madden of Madden's Casual Gourmet in downtown Bryan as the grand prize in an auction to benefit the March of Dimes. They have also committed to donate a poker-related auction package to CARPOOL's Gala in March to help raise funds so the organization can continue to provide safe rides for Aggies.
"Christmas is a time to look back with joy and gratitude, and a time to give," Paris says. "We're looking back with a lot of gratitude on a great year and trying to give back to those who helped make it so successful.
"We've delivered some great products and prizes in 2012, and our promise is to continue doing that, bigger and better, in 2013," Paris concludes. "That's why we wanted to start the year off right by extending our discount prices on all poker products into the first month of the new year."
About Texas Poker Store
Located in College Station - Bryan, Texas, the Texas Poker Store is a fully-stocked online poker store that offers 100 percent secured shopping and features hundreds of poker supplies. The Texas Poker Store was founded by Poker Lovers and Die Hard Players, Jim and Lynn Paris. We live in Texas, we play Texas Hold 'em and we welcome you to visit our store. You can find the Texas Poker Store at http://www.texaspokerstore.com, visit their blog at http://www.texaspokerstoreblog.com, and follow them on Twitter, FaceBook and on Pinterest.
Jim Paris
Chief Dealer
Texas Poker Store
302 N. Bryan Street
Bryan, Texas 77840
1-866-213-1594
979-595-7390