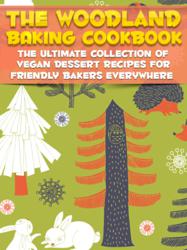 Portland, ME (PRWEB) December 17, 2012
An animal lover's dream, today Little Pearl Publishing announces the release of its new book, The Woodland Baking Cookbook: The Ultimate Collection Of Vegan Dessert Recipes For Friendly Bakers Everywhere. As part of the promotion, Amazon will be offering this fun new cookbook for free today through December 19th. Chloe Jacobs, author of the new book, takes the meaning of friendly to a new level, showing bakers everywhere how to bake amazing desserts all while protecting furry and feathery animal friends.
Thanks to creative food lovers like Jacobs, baking vegan now has all of the delectableness as regular baking, but with even more perks, like eating healthier, saving animals from inhumane conditions, and even helping the world with issues such as global warming and famine.
Jacobs became vegan seven years ago. She explains that, "The moment I saw my daughter and held her in my arms, I felt an incredible bond. Something about that made me look differently at the world. I no longer felt right about harming someone else's baby or taking away a parent, even if it is an animal."
The Woodland Baking Cookbook showcases Jacobs' creative side, something that few cookbooks feature. Filled with hand-drawn illustrations, playful anecdotes, and photos of critters to remind us why being vegan is so good, this new cookbook will become a favorite addition to your kitchen. It's free, it's delicious, and it's a wonderful reminder to appreciate all creatures that share our planet.