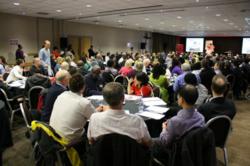 I will be teaching creative property investment strategies which work effectively whether you are selling your property or buying a new house
(PRWEB) December 17, 2012
Recent reports reveal that the number of home sales in the UK increased by 9.2 per cent, the largest increase since spring. According to director of research at Hometrack, Richard Donnell, this increase is mainly due to "sellers re-pricing homes that have been on the market for a while".
Australian property innovator, Rick Otton, however says there are alternative and more innovative ways to sell properties without lowering the price. "Dropping the price doesn't normally make a property sell faster. Dropping the price only creates a financial loss for the seller and doesn't create a financial benefit to the buyer," Otton explained.
What you need are creative and alternative strategies, which are what Otton will be discussing in his upcoming 3-day conference in the UK. "I will be teaching creative property investment strategies which work effectively whether you are selling your property or buying a new house," Otton said.
Selling Properties without Lowering the Price but Still Benefiting the Buyer
Rick Otton's innovative strategies make it possible for a seller to sell his property at the price he prefers, while still being able to sell quickly and help buyers purchase their own homes without financial struggle.
"It only takes a simple change in formula and attention to the buyer's motivations in purchasing. If you know the buyer's motivation for purchasing, you'll know what to change in the transaction to make it more beneficial for both you and your buyers," Otton said.
Thousands of individuals have benefited from Otton's creative property investment strategies – including those who have no experience dealing houses and real estate entrepreneurs seeking to create wealth from real estate. "Through these strategies, these individuals have been able to sell their homes and keep their preferred prices," Otton added.
Oliver Wastell, a student of Rick, is now able to sell properties far more than what the seller offers without bringing financial difficulties to the buyers. "I recently sold a £109,000 property for £121,000. I pocketed £7,000 from this transaction that was closed in less than two weeks! All thanks to Rick and his strategies!" Wastell said.
Teaching Creative Property Investment Strategies in the UK
Rick Otton will be coming back to the UK in 2013 to conduct a 3-day conference where he will talk about creative strategies in buying and selling real estate. He will discuss each of the strategies that he used when dealing houses. Plus, he'll solve the attendees' real estate problems using these strategies.
This event is indeed a huge learning opportunity especially for sellers who are pushed to reduce their price just to be able to sell their properties. With Rick Otton's strategies, no one will ever worry about profiting from a house sale or burdening buyers with additional debts.
Reserve your seat now and take advantage of our special payment plan for Christmas available until December 31, 2012 only.
http://www.rickotton.co.uk/pre-register.
About Rick Otton
Rick Otton has spent decades making money by snapping up inexpensive real estate and putting it to work building wealth. Now, he's teaching other Aussies how to do the same.
Otton is the founder and CEO of We Buy Houses, which operates in the U.S., U.K., Australia and New Zealand putting his strategies to work every day.
Otton got his start in alternative real estate investment in 1991 and within a year acquired 76 properties. In years after, Otton made a fortune using his low-risk, high-reward strategies to inexpensively acquire real estate.
Now, Otton wants to share the wealth by sharing the wisdom, teaching Aussies how to buy and sell real estate without cutting banks and other middlemen in on the deal.
Otton has been featured in a variety of television programs and magazines, including Today Tonight, A Current Affair, Australian Property Investor and more.
You can learn more about Otton and how to invest in residential real estate without using banks at http://www.rickotton.co.uk