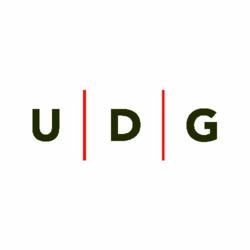 It is with extreme pleasure that we announce the promotion of four team members to our Associates Program.
Atlanta, GA (PRWEB) December 19, 2012
The Principals of Urban Design Group (UDG), a multidisciplinary architectural firm, are pleased to announce the promotion of four team members.
Matt Mitchell, NCARB, LEED AP was promoted to the position of Senior Associate. New Associates of the firm are: J. Blake Simmons; Quincy Tiller, III; and R. Matt Wilson, LEED AP BD+C.
"It is with extreme pleasure that we announce the promotion of four team members to our Associates Program," said Donald C. Buenger, AIA, LEED AP, Principal of UDG. "As we look to the future, it is important to take note of those individuals who represent the firm by exhibiting talent, leadership and excellence in service. We are proud to recognize our newly-promoted team members for their past achievements and contributions, and we look forward to their continued efforts in building client relationships and shaping the success of our organization."
Matt Mitchell, NCARB, LEED AP – Senior Associate:
Mitchell brings 20 years of experience to UDG's Atlanta studio, including particular strengths in fast-track project management and turning creative concepts into reality. He has successfully managed many high-profile projects, and his quick problem-solving ability and communication skills make him an asset to any project team. He is an important team member in coordinating UDG's gaming and hospitality projects.
Prior to joining UDG, Mitchell worked on a variety of projects including religious and educational facilities, mixed-use developments, office buildings and sports stadiums. Before relocating to Atlanta, Mitchell had his own architecture practice, which placed in the top five in the Monument to the Third Millennium international design competition.
Mitchell holds a Bachelor of Architecture degree from the University of Miami, and is a registered Architect in the states of Georgia and Florida. Mitchell also earned a certificate from the National Council of Architectural Registration Boards (NCARB) and is a LEED Accredited Professional.
Outside the office, Mitchell and his family are active members of the First Baptist Church of Alpharetta, Boy Scouts of America and Girl Scouts of America.
J. Blake Simmons – Associate:
A graduate of Auburn University, Simmons holds dual degrees in architecture and environmental design. During his eight years of professional practice, he has lent his expertise to the design of hospitality, gaming, office and educational projects. In addition to coordination and completion of construction documents, he is also responsible for creating renderings and developing architectural designs. Simmons takes an active role in interacting with clients, translating their needs into site appropriate design solutions.
Simmons is an expert in several software packages including Revit, AutoCAD, SketchUp, Photoshop, Illustrator, and InDesign. Outside the office, he continues his creative endeavors with his artistic and musical compositions.
Quincy Tiller, III, BIM Director, Atlanta Studio – Associate:
Tiller has 10 years of experience in all aspects of the design process including design development, master planning, site planning, construction documentation and construction administration. He has been involved with a variety of project types including hospitality, gaming, mixed-use, office, multi-family and retail projects.
Tiller holds a Bachelor of Architecture from Southern Polytechnic State University. He has an extensive knowledge of software programs and leads their integration into UDG, and has begun a training process for staff members. He is dedicated to the advancement of technology at UDG and is involved in the setup and direction of Revit and/or BIM on all projects in the Atlanta office.
Outside of the studio, Tiller is active with the First Baptist Church of Woodstock and serves as Chairman of the Architectural Control Committee for over 500 homes in Lake Park Subdivision.
R. Matt Wilson, Architect, LEED AP BD+C – Associate:
Wilson is experienced in the master planning, design and production of a diverse range of project types, including gaming, residential, community center, office and healthcare projects.
With degrees in both Architecture and Interior Architecture from Auburn University, Wilson is uniquely qualified to blend all aspects of a building together to create a space that is functional, aesthetically pleasing and energy efficient. He is a registered Architect in the State of Georgia, and he is a LEED Accredited Professional with a focus on Building Design and Construction. Wilson is highly skilled in the use of software and Building Information Modeling.
In his spare time, Wilson enjoys spending time with his wife and daughter, working in his home art studio and building projects in his workshop.
About UDG:
UDG offers architectural, interior design, master planning, product design and purchasing and logistics services to its worldwide clientele from studios in Atlanta, GA, and Dallas, TX. A market leader in the application and advancement of Building Information Modeling (BIM) technology, UDG's personnel work on a wide range of projects from hospitality, resort, gaming design and Native American design projects to corporate, university facilities, libraries and urban mixed-use developments.
In the firm's 37-year history, UDG has completed more than $6 Billion in projects worldwide. The firm has received more than 80 design excellence awards and honors and 15 design competition awards, and has been featured in hundreds of magazine articles, newspaper pieces and design resource books. For more information, please visit http://www.urbandesigngroup.com.