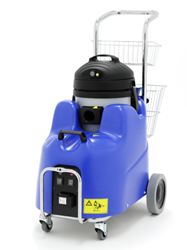 Daimer® is excited to offer the KleenJet® Supreme 3000CVG Gum-Exterminator® commercial steam cleaner, which represents a "greener" way of removing ugly gum pieces without needing a water supply connection.
Woburn, MA (PRWEB) December 17, 2012
Daimer Industries, Inc.®, the leading American brand and supplier of industrial and commercial steam cleaner machines, including mobile carpet steam cleaner equipment, vapor pressurized steam vacuum cleaner systems, diversified portable steam cleaner configurations, and chewing gum removal models to more than 200 nations, is offering an exclusive, versatile steam vacuum machine offering unprecedented gum wad dissolving features to clean spots on parking lots, sidewalks, concrete, walkways, brick, and most other hard surfaces.
The KleenJet® Supreme 3000CVG Gum-Exterminator® steam cleaner, which is one of the most powerful 110 volt vapor systems in the industry, generates pressure levels as high as 115 psi and high temperatures up to 364°F. The special configuration generates more sustainable higher flow vapor than other brands' models.
The company's superior vapor steam cleaner equipment cleans using dry vapor that contains only 5% water content, so the machine can be used during daytime when student traffic is even quite high. Daimer®'s high-technology machine offers enhanced cleaning without damaging the concrete. The 3000CVG's low-impact technique along with simultaneous cleaning and vacuuming offers superior cleaning power and increased productivity.
"Blackened chewing gum wads have always created high levels of frustration for schools, and moderately priced cleaning equipment to eliminate them has not been available," states Matthew Baratta, spokesman of Daimer Industries, Inc.®. "Daimer® is excited to offer the KleenJet® Supreme 3000CVG Gum-Exterminator® commercial steam cleaner, which represents a "greener" way of removing ugly gum pieces without needing a water supply connection. Even a non-professional can learn to use the machine like a pro within minutes."
Traditionally, pressure wash systems have always been used as gum removal machines. However, non-heated pressure cleaners require the use of chemicals and are not efficient enough to dissolve gum pieces. Unfortunately, these machines form a watery mess and increase the risk of etching or otherwise damaging the surface. On the other hand, hot water pressure washer equipment is less effective than dry steam since it generates temperatures incapable of quickly removing the gum. They tend to displace the gum residue from one part of the surface to another.
Continuous Refill Technology
The KleenJet® Supreme 3000CVG Gum-Exterminator® industrial steam cleaner from Daimer® comes with the company's Continuous Refill technology that lets users add water to the machine at any time while it is still in operation. The operators do not need not turn the machine off in order to refill it. Unfortunately, ordinary vapor steam cleaner systems in the industry do not have this extremely important feature, the absence of which requires operators to depressurize the machine, refill it, and then reheat. The whole process can take up to approximately 40 minutes, which negatively affects the cleaning professional's productivity.
Daimer® Continuous Refill functionality works in conjunction with the machine's Super Hot™ boiler process. The boiler maintains a high level of ultra sizzling water into which colder water from the non-pressurized water tank is mixed. The operator benefits by not needing to wait for the advanced steam cleaner machine to heat the incoming water. The end result is the machine is ready for immediate use, and the boiler's pressure and temperature levels remain fully maximized.
Daimer®'s Supreme 3000CVG Gum-Exterminator® industrial steam cleaner comes with a special gum removal tool onto which stainless steel brushes are attached. The company's low-priced gum removing solution makes the cleaning process even more simpler. One gallon of the concentrated gum removing solution creates nearly 11 gallons of ready-to-use liquid that is completely green and fully meets EPA standards. The company includes two gallons of the fornula during its special promotions.
Apart from just gum removal, the Supreme 3000CVG can be utilized for a number of other applications. The steam cleaner comes with more than 36 accessories that can be used for auto detailing; sanitizing and cleaning mirrors, knobs, stalls, bathroom walls, urinals, and sinks; as effective tile and grout cleaning equipment in restrooms ; grease removal from kitchens; and countless other applications.
Daimer®'s unique HEPA Filtration technology comes standard with the machine can extract even minute particles. The technology can eliminate particles up to 3 microns. These machines are not suitable for professional cleaning of carpets, so they do not fall under the category of powerful carpet steam cleaner machines.
For Additional Information:
For further information on the company's vapor steamer technology, visit Daimer®'s website, or contact Matthew Baratta at (888) 507-2220.
About Daimer Industries, Inc.®:
Daimer Industries, Inc.® is the world's leading provider of the largest line of industrial and commercial cleaning machines, with more than literally hundreds of models of industrial steam cleaning equipment, impressive floor steam cleaner models, stationary and mobile industrial pressure washers, and many other patented technologies appropriate for most industries worldwide.