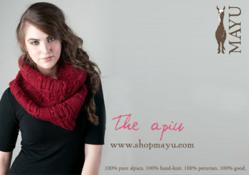 20% of Mayu's sales will be donated to fund the important initiatives of the National Peace Corps Association
Chicago, IL (PRWEB) December 18, 2012
Mayu, a Chicago-based social enterprise, has just announced a new partnership with the National Peace Corps Association. The purpose of this partnership is to help raise money -- through the sale of Mayu's hand-knit alpaca accessories -- for the organization's programs such as "Find the 250K" campaign.
Kate Robertson, Founder of Mayu, explains her connection to the Peace Corps: "If it weren't for the Peace Corps, Mayu wouldn't exist. As a volunteer in Peru, I met Mayu's talented knitters and discovered the beauty of the high-quality alpaca fiber we use to create our one-of-a-kind, hand-knit alpaca scarves, hats and other winter accessories." As a result of her time in the Peace Corps, Robertson learned the importance of Fair Trade practices; all of Mayu's alpaca scarves and hats are certified by the Fair Trade Federation. She is excited about this partnership and has already seen an increase in sales from socially conscious and fashionable members of the extended Peace Corps community.
For the next 12 months, customers can enter "NPCA20" in the comments box during checkout and Mayu will donate 20% of sales to the National Peace Corps Association.
About Mayu:
Mayu is hand-knit, pure Peruvian alpaca goodness -one hundred percent. Mayu is also a member of the Fair Trade Federation and was founded as a result of the founder's experience in the Peace Corps in Peru.
100% pure alpaca. 100% hand-knit. 100% peruvian. 100% good.