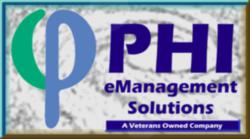 Loss of life, loss of innocence in this case with young children, and the psychological impact will be felt for months and years to come
Newmarket, NH (PRWEB) December 17, 2012
Jim Moody, PHI Solutions' VP of Training, met with PHI President Ralph Huber and Senior VP Gill Colon Jr to discuss the school shooting at the Sandy Hook Elementary School in Newtown, CT that took place early Friday morning, December 14th. The PHI management team reviewed available information from media news sources to determine how better to prepare schools, businesses and other organizations to deal with situations such as this.
Moody, responsible for developing emergency response plans and training staff personnel, said that although incidents like this are rare, when they do occur the results are devastating. "Loss of life, loss of innocence in this case with young children, and the psychological impact will be felt for months and years to come," he said. Moody also said that's why it's critical for all schools, day care centers, and businesses to have emergency response plans that are comprehensive in nature, with staff trained for all contingencies.
Huber and Colon both agreed that while shootings like this are infrequent, they are occurring more often. "The chances of something happening at your location are slim," Huber said, "but there's always that possibility." Colon said, "you must be prepared for the worst case scenario at all times. Prepare for the worst, hope for the best," he said.
The PHI management team all praised the actions of the Sandy Hook staff. "It appears that everyone acted in accordance with their training," Moody said, "and knew the proper lock-down procedures to protect their students. While this is a horrible tragedy, it could have been much worse if not for the actions of the trained staff and their heroic actions."
PHI Management Solutions, Emergency Management Division, offers many different home and institutional products for emergency planning. They also have free downloads and information links designed to inform and assist individuals, families, organizations and businesses prepare for emergencies. Our team is composed primarily of veterans with over 90 years of combined service. Each member of the team has proven themselves through combat command and has extensive experience in disaster response and planning. Team members have commanded response forces and/or participated in several disaster responses to include the 2005 crash of a civilian airliner in Afghanistan, Hurricane Katrina 2005, Southwest New Hampshire Flooding in 2005, New Hampshire Statewide flooding in 2006, Epsom, NH tornado response in 2007, the 2008 New England Ice Storm, 2009 Anthrax Response in Durham, NH, the 2010 Wind Storm, Hurricane Irene in 2011, the October 2011 New England Snow Storm and Super Storm Sandy in October 2012.