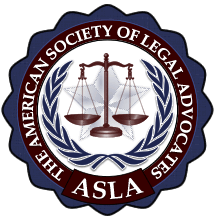 Addison, TX (PRWEB) December 17, 2012
The American Society of Legal Advocates is pleased to announce that John F. Lang has been selected as a Top 100 Trust & Estates Lawyer in New York State for 2013, and has accepted membership in the organization.
The American Society of Legal Advocates ("ASLA") is an invitation-only, nationwide organization of elite lawyers, drawing its membership from practicing attorneys who combine stellar legal credentials with a proven commitment to community engagement and the highest professional standards. ASLA selects less than 2% of all licensed lawyers nationwide, featuring no more than 100 lawyers per state – and 40 lawyers under the age of 40 – in each area of practice or specialty, with specialties varying per state depending on the number of practicing lawyers. Please visit http://www.societyoflegaladvocates.org to learn more about ASLA.
John Lang is a highly experienced attorney who focuses the major portion of his practice on New York trust and estate litigation. Following graduation from Fordham Law School and a tour of duty overseas with the U.S. Marine Corps, Mr. Lang's career included service as a senior prosecutor of fraud and corruption cases, 18 years as a partner with the law firm of Loeb & Loeb LLP; and, since 2010, as founder and principal of the Law Offices of John F. Lang. His prior honors include being awarded the highest ratings from Martindale and Avvo, designation as a Super Lawyer by Thomson Reuters, selection as a Fellow of the Litigation Counsel of America, a trial lawyer honorary society. He is the author of a book on deposition practice and several articles. His achievements in the field of child welfare reform pro bono advocacy have been highlighted by articles in a number of publications. For more information about Mr. Lang please visit http://attorneylang.com.