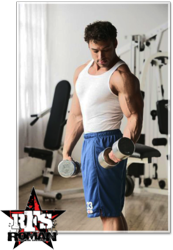 "Zombie's aren't real, but these workouts are." - John Romaniello
Laie, Hawaii (PRWEB) December 17, 2012
The Zombie Survival workout, developed by Boston and New York City's premier personal trainers, is getting rave reviews. The program is on sale for the week of the 17th-21st of December, coincidentally ending on the day that the Mayan calender culminates.
Nobody really knows whether the Mayan's actually predicted the apocalypse or whether they just got tired of making calendars. What is for certain is that the 21st of December will be met with a lot of trepidation and media coverage. The fictional idea of the zombies is in vogue right now popping up all over Hollywood and the authors used that image to create a fun workout.
But not all programs are created equal. That's why Zombiesurvivalworkoutreview.com got early access and did a Zombie Survival Workout Review.
The author's both understand that the end of the world is not forthcoming and there will not be a Zombie Apocalypse but decided it would be a fun reason to develop a workout. According to expert personal trainer John Romaniello, "The end of the world won't happen in one foul swoop. There will be a patient 0, somewhere. It will take time for the Zombie contagion to spread. When it gets to you, this workout will make sure you're ready. Zombie's aren't real, but these workouts are."
The instant download program is 12 weeks long with an optional 3 week priming phase. The program includes all workouts, a full video tutorial library, and custom workout logs. Roger Lawson and John Romaniello also included a "quick start" checklist for those who want to get started right away.
The program includes exercises to help the exerciser display a wide range of physical attributes important to anybody who wants to lose fat while increasing strength and endurance. According to Roger Lawson, "a crowbar to the skull is going to take out an infected walker whether it's swung by a strong ass bodybuilder or a 120-pound video game jockey. What matters most is your ability to swing that crowbar over and over and over and over again."
The Zombie Survival Workout Review reveals that this program is great for people to develop great physiques. According to expert personal trainer John Romaniello there are two scenarios, "Worst case scenario, you complete this program and there isn't a zombie apocalypse, you're still in great shape. Well, actually, that's probably the best-case scenario. The absolute worst-case scenario is much scarier… the zombie apocalypse happens and you're not prepared!" Both Roger and John understand that the apocalypse is not forthcoming but they are good at making it into a joke for the sake of their program.
According to the review from the Zombie Survival Workout Review, "The program itself is quite good. It mixes high intensity cardio training with real world strength. Anybody who completes this program will end up faster, leaner, and stronger, and sexier overall. The joke Zombie theme is fun and makes the workout fun to read and talk about."
To get instant access to the program or read the clever sales page one should go to the official website here.
To access the complete Zombie Survival Workout review, visit http://www.zombiesurvivalworkoutreview.com