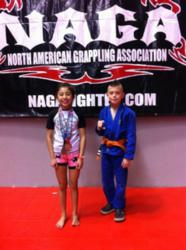 "Self-defense, good health, and safety don't come by accident but by discipline."
Houston, TX (PRWEB) December 17, 2012
"Recently Ground Dwellers BJJ (Brazilian Jiu Jitsu) of Houston had an opportunity to showcase their commitment to hard work, training and discipline," says Brazilian Jiu Jitsu trainer and instructor Eddie Avelar of Ground Dwellers BJJ.
John Abney, one of students who trains at Ground Dwellers BJJ won two first place medals at the 2012 World Jiu Jitsu Championships held December 15 and 16 at Nytex Sports Centre outside of Dallas, Texas.
"In this day and age where senseless and tragic acts of violence are happening all around us, our young people need to develop a sense of discipline, self-esteem, good health, self-defense, and respect," continues Eddie Avelar, "and we are committed to enhance the physical and emotional wellbeing of all our students as demonstrated in our recent first place winnings during the 2012 NAGA Championships."
Eddie Avelar believes that it is easy for kids to get side-tracked in life and lose focus. "Whether it's through overeating, bad influences, video games, stress from school, depression, or inactivity - our young people need to become engaged in a exercise program that's equally exciting, instructive, and beneficial and Brazilian Jiu Jitsu Houston fulfills all these expectations and more," says Eddie Avelar.
Learning Brazilian Jiu Jitsu can be beneficial in many ways for people of all ages. Even though self-defense is one of the main emphasis, Brazilian Jiu Jitsu Houston says that there are other components as well.
"There is an epidemic in this country," says Eddie, "we need to retrain and refocus our minds and bodies so that we can overcome the doubts and fears that are destroying both our young people and society."
Brazilian Jiu Jitsu Houston believes that its unique style of martial arts is designed to keep the body and mind healthy.
"Once you become disciplined in Brazilian Jiu Jitsu," explains trainer and instructor Eddie Avelar of Ground Dwellers BJJ, "you become more appreciative and respectful of yourself and of those around you. The foundation of martial arts involves the discipline of both the mind and body."
"Besides giving us a sense of confidence, Brazilian Jiu Jitsu training and exercises can help you lose 10 pounds or more and even strengthen the muscles and bones which help against breaking down and injuries," continues Eddie.
The benefits are real and come only after continuous training, hard work, and dedication. These are good qualities that need to be developed in today's young people.
To celebrate the two first place victories at the 2012 NAGA World Championship, Ground Dwellers BJJ is offering free registration for new student enrollment with no contracts or commitments for a limited time only. This is a saving of $160 which will be good until January 31, 2013.
If you or your child is interested in Brazilian Jiu Jitsu or would like more information about Brazilian Jiu Jitsu, please contact Ground Dwellers BJJ.
About Brazilian Jiu Jitsu Houston: Ground Dwellers BJJ is a first class Brazilian Jiu Jitsu Houston school that specializes in turning children into champions.