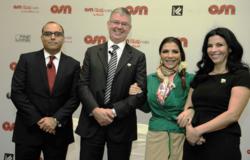 Dubai, UAE (PRWEB) December 18, 2012
OSN, the leading pay-TV network in the Middle East and North Africa, today announced the launch of five new channels that will go live across the region on 1st January, 2013. The new channels re-affirm OSN's commitment to providing exclusive premium content to its viewers.
Two premium HD Arabic channels – OSN Ya Hala Shabab HD and OSN Ya Hala Arabella HD lead the channel expansion which also includes the addition of leading English language lifestyle, pop-culture and 'infotainment' channels Discovery World, Fuel TV and Fine Living that are new to the region.
OSN will also enhance its HD portfolio with Discovery, E! and ITV upgraded to HD bringing the OSN HD line-up to an amazing 36 channels giving viewers the widest cinematic experience of HD in the region.
David Butorac, CEO of OSN said: "This is an exciting time for OSN. The new channels mark a key milestone for OSN enabling us to offer more of what our customers love to watch through exclusive, quality and high definition programming. The new channels give viewers more choice, more HD and more premium entertainment that appeals to all segments.
"Arabic content is one of the top ranked reasons people enjoy OSN TV, and following the tremendous success of OSN Ya Hala! HD launched last year, it was time to further enhance our Arabic offer with fresh, exclusive content. We are incredibly proud of the new channel line-up which promises to bring unparalleled exclusive content to the region," adds Butorac.
OSN's new Arabic channels will showcase a mix of original content with edgy new programmes slated to fill the airwaves around the region.
OSN Ya Hala Shabab HD is the exclusive home for the best Arabic programming in stunning HD, with content that appeals to Arab youth and those who are young at heart. Viewers can look forward to edgy talk shows with star anchors Bassem Yousef and Ashraf Abdulbaqi discussing today's issues and Egyptian drama series featuring celebrities such as Khaled Alsawi in AlaKaf Afreet. In addition, a dedicated weekly Friday slot will feature the biggest Arabic movies in full HD within weeks of their theatrical release including mega hit releases from leading stars Tamer Hosny and Mohamed Saad.
The second new channel, OSN Ya Hala Arabella HD, is a telenovella channel featuring the most popular and highly rated Arabic dubbed Mexican series including super hits Kayd Imra'ah and the endearing Asirat Alhob. The new year will also see the launch of OSN Ya Hala! HD +2, time shifted by two hours, giving subscribers more flexibility to view their favorite shows.
Commenting on the expansion of OSN's Arabic channels, Khulud abu Homos, Senior Vice President of Programming and Creative Services, said: "A new era of Arabic production emerged with the launch of OSN Ya Hala! HD last year and this is yet another beginning of a whole new world about to come to life through our brand new HD channels.
"Viewers can expect the same level of amazing quality production as OSN Ya Hala! HD with shows catering to youth and female audiences bringing the best of the best in terms of fresh talent and content, including action and reality shows that live up to international standards. We will be introducing more Arabic channels this year bringing more of what our viewers love - movies, series, celebrity shows and new formats."
Feeding the high demand for quality lifestyle programming in the region and adding to its extensive content, OSN will introduce three new and exclusive English channels.
Discovery World will present the very best factual programming from around the globe showcasing culture, real life stories, investigation and mystery shows including the ever popular Prototype This! and Amazing Medical Stories.
Fuel TV is pure adrenaline heaven offering viewers the most vibrant and action-packed television entertainment featuring thrill-seeking sports from skateboarding, surfing, snowboarding to BMX and motocross, including live events.
Fine Living is the trendsetting style destination for indulgence seekers. World-renown chefs, innovative designers, fashion gurus and lifestyle experts will bring fun, fresh ideas for every corner of your life whether it's your home, cuisine, travel, style or well-being.
Emad Morcos, Vice President - Business Development, Strategy and Digital at OSN adds: "The three new channels complement our existing line up addressing the high demand for more women oriented and lifestyle programming as well as a dedicated channel for high-octane sporting action. As we continue to grow and analyse customer preferences, we will continue to bring on board fresh content that satisfies all customer segments. We also have digital rights for these channels so OSN subscribers can enjoy our new content anytime, anywhere on a variety of devices through OSN Play.
"Our research shows that High Definition is cited as one of the top five features desired by viewers and this is a key driver behind OSN's decision to upgrade popular channels, Discovery, E! and ITV, to HD enhancing the viewing experience and establishing us as the only broadcaster with the largest HD line-up. We will continue to add to our HD offering through 2013," added Morcos.
For more information, please visit OSN's website http://www.osn.com