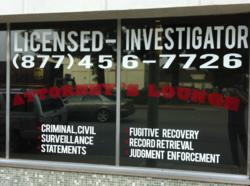 "Thank you again for all of your assistance. You were always prompt, efficient, and polite. I look forward to working with you in the future."
Joseph Gutierrez Esq.
El Monte, California (PRWEB) December 18, 2012
Paramount Investigative Services Joins Forces with Renowned Fugitive Recovery Agency Ramos Fugitive Recovery.
Los Angeles based private investigation company Paramount Investigative Services is all set to enter the California fugitive recovery market. In a recent development, the company has partnered with America's leading fugitive recovery experts Ramos Fugitive Recovery. Under the able guidance of Brian Ramos, Ramos Fugitive Recovery has been offering exemplary service as a recovery agent since last six years.
El Monte, CA, December 9th, 2012
Paramount Investigative Services, the top rated Los Angeles private investigator, has just announced that they have joined hands with eminent fugitive recovery experts Ramos Fugitive Recovery. Paramount Investigative Services is owned by well known private investigator Ken Childs and has been offering a wide spectrum of investigative services covering insurance related claims, cheating spouse investigations, cohabitation investigations, child custody investigations, and much more. Ramos Fugitive Recovery, on the other hand, is a renowned fugitive recovery expert with the credential of serving the industry in the United States, Canada, and Mexico since 2005.
The meteoric rise of Ramos Fugitive Recovery can be attributed to the charismatic leadership of Brian Ramos, the owner of the firm. Mr. Ramos has had an illustrious career in this field and has served Aladdin Bail bonds, Torito Bail Bonds, Lady Liberty Bail Bonds, Penny Bail Bonds and many surety companies with a great reputation. The combined force of Paramount Investigative Services and Ramos Fugitive Recovery will make it possible to remove fugitives from the general populace safely and delivering them to proper prosecution in a court of law.
Fugitives are people that have made the conscious decision to evade lawful prosecution for their crimes. A person who has fled the law can be considered dangerous to those around them for many reasons including but not limited to desperation on the fugitive's part. Tracking fugitives, safely removing them from the populace and delivery to the proper authorities takes skill due to the severe amount of danger involved.  Working with local law enforcement, Paramount Investigative Services can successfully bring in fugitives, no matter where they are in North America. As a California fugitive recovery agent, the combined force of these two companies has all the necessary skills, to perform safe and proper recovery for each client.
While announcing the new business tie-up of the companies, the owner of Paramount Investigative Services Ken Childs said, "The combined force of the two firms gives our clients over 20 years of skip tracing, locating and surveillance experience, this certainly is an experience you can trust. Together we are your Southern California Surveillance and Fugitive Recovery Experts!"
About the Company: About the Company: Paramount Investigative Services is a Los Angeles based team of private investigators known for investigating insurance claims for insurance companies, corporations and law firms.
Contact:
Ken Childs & Brian Ramos
(877) 465-7726
11350 E. Valley Blvd #103
El Monte Ca. 91731