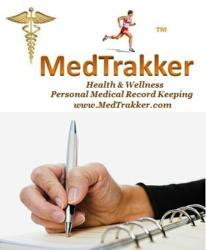 MedTrakker's empower patients to become partners with their Doctors, to receive the best possible healthcare, for individuals and their loved ones.
(PRWEB) December 18, 2012
It's absolutely frustrating to keep up with records from one doctor to another to make sure everyone has the same information, and as we all know… that's rarely the case. The MedTrakker family of organizers has something for everyone. Organizers include sections to record family histories, previous surgeries, medications, appointments, personal information, emergency contacts, doctors' notes and questions, insurance information, and healthy tips for diet, exercise and well being and so much more. Medtrakker offers a variety of personal medical record organizers such as; Diabetes Trakker, Cardio Trakker and Cancer Trakker. These organizers not only offer an extensive record keeping tool but also provide information about diseases, risk factors, and ways to manage the patients' health condition.
In addition, MedTrakker has also created BabyTrakker to record information from the beginning of pregnancy, record all pre-natal care and well baby visits through age two. There's even a place to enter your keepsake pictures, dates of baby's accomplishments all the way through age five. Whether a pregnancy is a normal one or a high-risk pregnancy, this baby book has everything needed to ensure a healthy, wonderful journey through pregnancy..
"I came up with the idea to create easy to use, portable personal medical record keepers when caring for both my husband and my mother, both with chronic health conditions… I needed to have the information at my fingertips sometimes when taking them to different doctors and got sick of looking through this notebook and that notepad and calling doctor's offices trying to organize and locate all their records," said author, Amber Bowden.
MedTrakker's family of personal medical record organizers helps put the focus on the patient and ensuring they receive the best care possible instead of worrying about missing information in their medical records. The benefits are insurmountable… no longer dealing with filling out hospital and medical forms over and over again, not missing appointments, being able to know about and avoid unnecessary treatments, not duplicating tests and lab work, learning about prescription drug interactions, saving time, etc.
The medical organizers are available exclusively online at: http://www.medtrakker.com/ and at Amazon.com, Barnes and Noble and many other popular book retailers. Author Amber Bowden is available for speaking events, book signings and expert quotes and can be reached at Linkedin and at Twitter to answer further questions regarding the whole family of MedTrakker Personal Medical Record Organizers.