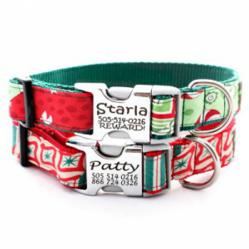 New Personalized Dog Collars and Accessories Just for the Holidays

(PRWEB) December 19, 2012
Mimi Green is selling 21 new personalized and engraved dog collars just in time for the holiday season. Mimi Green's new personalized engraved holiday dog collar is brand new this season.
This holiday dog collar is made of high quality cotton webbing, and can be customized with laser engravings to keep pets identifiable and safe. With a dog's important information engraved directly on its collar, pet moms and dads will never hear the jingle of dog tags again. The heavy duty D-ring is designed to attach accessories or a leash, and is made of durable stainless steel.
In addition to the holiday special already mentioned, there are several new additions to Mimi Green's holiday dog collar and accessory collection this year. Another one of this year's highlights is the Evergreen Personalized Dog Collar, featuring a lush velvet band with custom embroidery. The Red Dingo Snowflake Dog Tag is also popular this year. It is made of rugged stainless steel, but is so sparkly that it looks like a holiday ornament. Many festive dog collars, dog collar accessories, and leashes grace the virtual shelves of Mimi Green's holiday offerings.
Mimi Green is the brain child of Amanda Jackson. With an education and talent in the arts and a love of animals, Amanda was able to combine her two passions to form this wildly successful dog and pet brand. This New Mexico dog collar boutique continues to grow exponentially, as does their selection of designer dog collars and accessories. The 2012 holiday season has more custom, handmade products than all previous years combined. All of Mimi Green's products are designed and handmade in the USA!
To contact Mimi Green or shop for Mimi Green products online visit http://www.shopmimigreen.com today.