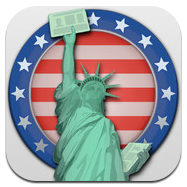 An easy-to-use app which can be a good substitution to applying for Green Card Lottery via computer or laptop
Singapore (PRWEB) December 19, 2012
On November 30, 2012, U.S. House of Representatives approved STEM Jobs Act which would eliminate the Diversity Visa Program, according to the Committee on the Judiciary's official web page. Many people misunderstood the meaning of the message and believed that the Green Card Lottery was cancelled at all. For already several days a considerable amount of people on Twitter, Facebook and other social networks have been posting statuses and messages regarding elimination of the Green Card Lottery.
However, there must be no worries about the lottery elimination as Senate Democrats blocked the STEM Visa Immigration Bill, meaning that the Diversity Visa Program will continue to give 55,000 permanent resident visas to natives of countries with low rates of immigration to the United States.
Green Card Lottery usually takes place once a year with registration period starting in October and lasting until November. As a rule, results are out next year in May-June and additional entries may be selected later the same year.
In order not to miss the lottery registration period, there is a mobile app named USA Green card Lottery available to download on the App Store, and now as well on Google Play and Windows Phone. The app can send a notification to its users informing them about the lottery registration start day, so that it will not be possible to miss it. In addition to this, the app offers a recently added new feature - Result Notification Centre, which will inform applicants when the results of the lottery are out.
Besides, USA Green Card Lottery app provides information on lottery itself, and an option to check if an applicant is eligible to apply for the lottery. Once the decision to apply for the lottery is made, an applicant can purchase a function which will help him to make a photo of himself that will respond to the lottery standards.
USA Green Card Lottery app is an easy-to-use mobile application which can be a good substitution to applying for electronic lottery using a computer or laptop. The app is connected directly to the official webpage of the lottery and therefore the whole process is free of charge.
Pricing and Availability:
USA Green Card Lottery app is available on the App Store, Google Play, and Windows Phone worldwide in English language, and it is for free.
The app is developed by Fast Development Solutions, a mobile application developer studio that combines advantages and experience of a larger company while still maintaining the culture of a small boutique firm.
Useful links:
Facebook: http://www.facebook.com/GreenCardLotteryApp
App's official web page: http://www.usagreencardapp.com/
Company's official web page: http://www.fastdevsol.com
Twitter: @US_GreenCardApp