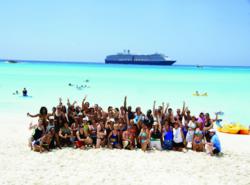 "I am truly proud of our reputation as fun-loving, respectful and caring ambassadors who make a positive contribution every place we go." says Olivia President and Founder Judy Dlugacz
San Francisco, Calif. (PRWEB) December 19, 2012
Forty years ago, ten friends gathered in a Washington, D.C. living room to discuss their dream of starting a record company that specialized in female musicians. The resulting company, Olivia, produced some of the biggest-selling albums in women's music before transforming into a multi-million dollar lesbian travel business. When Olivia marks its 40th anniversary in 2013, it will celebrate that success together with several high-profile travel partners, and nearly 175,000 women who have vacationed with the company.
This pioneering company began when, during that living room conversation, singer-songwriter Cris Williamson asked Olivia's current president and founder, Judy Dlugacz, "Why don't you start a women's record company?" The friends used $4,000 in borrowed seed money to officially establish Olivia Records, and Williamson and Meg Christian came on as Olivia Records' earliest featured artists. Their talent helped the independent, niche label grow into one of the industry's most successful. Over the next 20 years, Olivia sold millions of albums while creating new opportunities and a welcoming lesbian platform for musicians and fans alike.
In 1990, as the sole remaining founding partner, Dlugacz planned to spotlight Olivia Records' top musicians in a concert on the water. She was met with resistance, however, as few companies were willing to charter a cruise ship to a group of lesbians. Dlugacz's perseverance became the pivotal step toward Olivia's future success.
She ultimately put down a $50,000 deposit to charter a Dolphin Cruises ship, and more than 600 women signed up for the four-night voyage to the Bahamas. It sold out so quickly that Olivia chartered a second vessel and offered back-to-back cruises. Driven by the enthusiastic response that 1,100 women exhibited to these inaugural offerings, the Olivia Travel brand was officially born.
Today, Olivia is the largest owned and operated lesbian travel company that takes members of the underserved women's market to Alaska, Antarctica, the Greek Isles, the British Isles, South America and beyond. The company has more than 150 cruise, land and adventure vacations in its portfolio, ranging from culinary themed world cruises to beachfront Mexican Riviera flagship resort and eco-friendly African safari lodge stays. Since debuting their Ultimate Escapes program in 2005, intimate once-in-a-lifetime experiences such as luxury 6-star small-ship sailings through Tahiti, enchanting riverboat journeys through France and wildlife sightseeing adventures aboard state-of-the-art National Geographic expedition ships have become their fastest growing vacation niche.
However whether touring bustling continental cities or remote cultural villages, Olivia trips consistently sell out; in fact, some guests have traveled with the company more than 50 times. And, thanks to the loyal connections that Olivia creates, between 96-98 percent of past guests say they would choose to travel with the company again.
A standout among resell charter companies, Olivia has also developed a 100-percent success rate with its hospitality brand partners over the past 22 years – including Holland America Line, Paul Gaugin Cruises, Windstar, Avalon, National Geographic and Club Med.
In addition to benefitting its hospitality partners, Olivia's success underscores the economic power of lesbian travel. The company offers trips to gay-friendly destinations, adds lesbian-geared programming and, as a signature part of its mission, always charters the entire ship or resort. Thoughtfully tailored activities, such as onboard group commitment ceremonies and re-invented games like the "Olivia Olympics", "Olivia Idol" and the "Oldywed-Newlywed Game," typically invoke enthusiastic guest participation. And, packed audiences have enjoyed Olivia shows by famed entertainers and athletes including Heart, Melissa Etheridge, Whoopi Goldberg, Wanda Sykes and Arianna Huffington, as well as Billie Jean King, Martina Navratilova, Diana Nyad and Sheryl Swoopes.
Olivia guests also boost local economies by spending money in the communities they visit. The company shows a sincere interest in giving back to these destinations and residents through philanthropic and humanitarian support of community education, housing, wildlife, disaster relief, and health and human advocacy efforts.
Commemorating four successful decades, Olivia's four enticing anniversary-themed trips promise lifetime memories for 6,500 women in early 2013. Back-to-back, 2,100-passenger Southern Caribbean cruises aboard Holland America's newest signature ship, the Nieuw Amsterdam, will depart from Ft. Lauderdale, Florida on January 27-February 3, 2013, and February 3-10, 2013. Two consecutive Music and Comedy Festival vacations will also be held at the 600-room, all-inclusive Club Med Punta Cana Resort in the Dominican Republic on May 11-18, 2013, and May 18-25, 2013.
To learn more about Olivia's history, executive team and upcoming vacations, visit http://www.olivia.com/Connect/Press/default.aspx. Olivia reservations can be made with a toll-free call to 800-631-6277, by calling 415-962-5700 or through an authorized travel agent. Olivia Travel offers standard travel agent commissions on a range of vacation bookings.
# # #