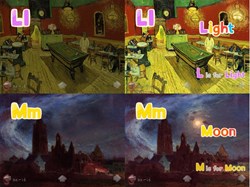 (PRWEB) December 18, 2012
Art ABC is a freshly launched educational app from Oh Factory. The app aims to help young children learn the alphabet, provides an introduction to phonetics, and exposes little learners to the fine arts in the process.
Designed to be simple enough for little ones to use on their own, Art ABC presents each letter of the alphabet in order, accompanied by a narration of the letter's name. As they explore the background (selected from various famous paintings), an object which contains the letter in question is highlighted in some manner, and the name of the object is stated by the narrator. The object's name appears on the screen as well. These gorgeous fine artworks delight little ones, and their presence is as enriching and educating as the alphabet itself.
Art ABC is a wonderful choice for parents who are seeking old-fashioned learning that makes the most of new technology. The app entertains and educates without being over-stimulating, and provides visual entertainment through sophisticated artwork rather than childish cartoons.
This focus on high quality and education sets Art ABC apart from much of its competition, especially consider the app's simple purpose. Art ABC elegantly presents major themes for those first learning the alphabet in a cultured manner, without overwhelming or boring young minds.
About the Developer:
Oh Factory is an edutainment app developer who strives to use famous images and classic stories to provide creative methods for children when beginning to learn the alphabet, English vocabulary, numbers and more.
Device Requirements:

iPhone, iPod touch, and iPad
Requires iOS 4.2 or later
121 MB
Pricing and Availability:
Art ABC 1.2.1 is only $0.99 (USD) and available worldwide exclusively through the App Store in the Education category.
iTunes Link: https://itunes.apple.com/us/app/id577729562