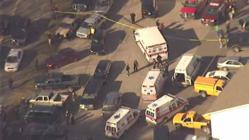 As human beings, let alone United States citizens, let's all come together and show our love and support for the many families who are hurting right now.
San Jose, CA (PRWEB) December 19, 2012
In lieu of the tragic shootings at Sandy Hook Elementary School, Healthdonor.com is announcing the launch of a nationwide fundraiser to help raise money for the 26 families who lost their loved ones due to this terrible tragedy. 100% of all proceeds will go directly to the victim's families.
"This is an unspeakable and senseless crime, to hurt such beautiful, innocent children. As a father, I am personally outraged by such senseless violence while at the same time completely heartbroken for these families. To help our fellow brothers and sisters, our team at Healthdonor.com will take action and create a fundraiser to raise money to help these families who are suffering," says President Jason Taillie.
The fundraiser will be hosted on the front page of http://www.healthdonor.com, and will be available to anyone in the U.S. and around the world who are wanting to help these families.
Healthdonor.com is a website where individuals or charities can create profiles, upload videos, and other graphics to create their own personal donation websites, and create fundraisers for their cause. HealthDonor accomplishes this by utilizing custom social media, blogging, and email tools, as well as affiliated organizations and charitable benefactors visiting the site.