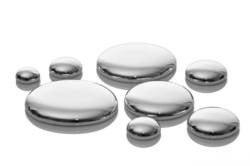 It's always good to take our lead from our customers and as a leading UK online chemicals supplier we are delighted to have added Mercury metal to our range.
(PRWEB UK) 17 December 2012
Charles Screawn of ReAgent Technical Sales explains, "We were getting a lot of enquiries from customers for Mercury metal which is still widely used for certain applications so we decided that we would add this product to our range."
Mercury is the only metal which takes the form of a liquid at normal room temperature. It is silvery-grey in appearance and has a very high density which makes it very heavy. Mercury is 13.534 times heavier than water so even a small container of Mercury will feel very heavy to lift.
This remarkable chemical has been known to man since earliest times and evidence has been found to show that it was used by the Ancient Egyptians, Mayans, Greeks and Romans. In China and Tibet it was believed that Mercury could prolong life and heal the body.
In the early 1800's Mercury was best-known as a chemical used in the hat-making industry with the expression 'as mad as a hatter' originating from the fact that hatters were unavoidably exposed to toxic Mercury fumes during the felting process. This frequently caused neurological disorders with hatters suffering from distorted vision and slurred speech.
Today Mercury metal is used in a diverse range of industry sectors as ReAgent Technical Director Darren Wilson explains, "Mercury expands and contracts evenly with temperature change so it is used in thermometers and barometers and can be found in heat-sensitive thermostats and cut-out switches in household appliances such as top-loading freezers and washing machines. It's also used in the production of Chlorine and Sodium Hydroxide where it acts as a liquid electrolyte. Mercury is also found in cosmetics, pesticides and some batteries."
ReAgent has over 30 years experience as a UK chemical supplier and works with many different industry sectors such as the automotive industry, engineering, petrochemicals, the food industry, water treatment and pharmaceuticals. The Company is recognised as working in accordance with the requirements of numerous internationally-recognised industry standards including ISO 9001 Quality Management Standard, ISO 14001 Environmental Management Standard and IIP.
Managing Director Richard Hudson concludes, "It's always good to take our lead from our customers and as a leading UK online chemicals supplier we are delighted to have added Mercury metal to our range."