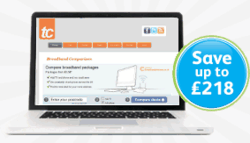 Many UK consumers could potentially be wasting over £180 per year on broadband.
(PRWEB UK) 18 December 2012
By surveying 1228 broadband consumers they found out that the average broadband consumer only uses a fraction of their monthly broadband limits and can over pay by an estimated £180 per year.
The survey asked consumers how much they paid each month (outside of any promotional periods), what package they purchased and also asked them to monitor their bandwidth for 3 months.
The results showed that 77% of those asked paid on average £18.23 per month for 'unlimited' packages where usage was not capped. Analysing their broadband usage over this period also showed that their average bandwidth was only 19Gb per month.
Suggesting that the majority of broadband consumers are overpaying for their broadband and 'uncapped' packages were not suitable for the average consumer.
Andrew Mead of thecomparison.co.uk "We wanted to evaluate how much consumers are paying for their broadband; we were surprised by the results, with many people potentially over paying by £180 per year.
Mead recommends "Customers need to monitor their usage before renewing their broadband service; many of our customers pay less than £9.50 per month for a 20Gb bandwidth limit. This seems to be more than enough for the average broadband customer".
In addition to monitoring bandwidth usage, connection speeds were also analysed to see whether price impacted performance. Findings showed that even with a cheaper £9.50 per month package download speeds where the fastest the customers line could handle.
Andrew Mead concludes "We originally believed that customers on an uncapped line could receive higher speeds, but that simply wasn't the case. Even the cheapest package available provided the best speed the customer could have, sometimes as high as 20Mb".
"As broadband becomes a must have utility, like Gas or Electric, consumers are recommended to continually monitor prices. Broadband providers are offering very attractive packages, with many at half price for the first 6 months. As long as consumers understand the monthly limits, then they could be saving up to £180 per year by simply changing their package".
thecomparison.co.uk uses an Ofcom approved broadband comparison calculator to provide consumers with impartial data on the latest broadband deals, guaranteeing the best rates for their area.