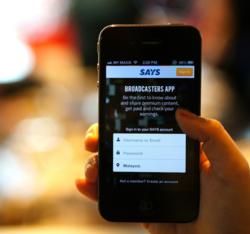 Given how we are always on our phones, it (the app) will allow anyone to share specials and earn, wherever they are.
Petaling Jaya, Selangor (PRWEB) December 18, 2012
SAYS.com (http://says.com), Malaysia's social news network launches 'SAYS Broadcasters,' a new free iPhone app that allows users to share premium content direct from their smartphones and earn on the go. Besides the ability to share premium content, or 'Specials,' the app is designed to enable users to check on their total earnings, and to notify users on new Specials and when their cash outs have been completed.
"Given how we always have our phones with us, it (the app) will allow anyone to share and earn on the go," said Samuel Wee, General Manager of SAYS.com.
Since 2010, the SAYS Broadcasters Program has been rewarding social-media users for sharing the latest movies, games, events, gigs, contests, news and videos. Users browse through updated selections of Specials, choose to share the Specials that interest them the most, and get paid when their friends visit their shared Specials.
As of September 2012, SAYS.com has rewarded over RM1.5 million worth of earnings to its active social community. Now, with the new SAYS Broadcasters app, users can enjoy the features of the Broadcasters Program on their iPhones and iPods. Besides sharing on Facebook, Twitter and email, users can also SMS their Specials to friends.
"It's our first take on mobile sharing, and we're likely to release an Android version," says Gaddafi Rusli, Head of Product Development of SAYS.com.
The SAYS Broadcasters app requires iOS 6.0 or later, and is optimised for iPhone 5. Also compatible with iPhone 3GS, iPhone 4, iPhone 4S, iPhone 5, iPod touch (3rd, 4th, 5th generation).
SAYS Broadcasters is now available for download at the Apple App Store.
Download link: https://itunes.apple.com/my/app/says-broadcasters/id575829470?mt=8
Demo video: http://www.youtube.com/watch?v=8DBzTkBDKdY
SAYS.com (http://says.com) is a country-specific social news network based in Malaysia. In the third quarter of 2012, SAYS expanded regionally to Singapore, India and the Philippines. Social media users from each country curate and share trending local news, videos, social causes, and get paid when they broadcast relevant advertiser-sponsored content.