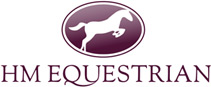 To start a business that is not only our family hobby but an opportunity to work together as a family was too good to be true
Olney, Buckinghamshire (PRWEB UK) 19 December 2012
A family with a long standing passion for horses and horse riding has launched a new equestrian supplies firm called HM Equestrian. The new company based in Buckinghamshire will focus on supplying an extensive range of horse riding equipment and clothing from leading brands to customers across the UK. Alongside ensuring all products are always in stock, the new family-run business is to place customer service at the heart of its proposition.
HM Equestrian's Managing Director, Nick McFarland, commented, "To start a business that is not only our family hobby but an opportunity to work together as a family was too good to be true. We felt there was an opportunity to share with people our experiences over the years of being horse owners and riders and also offer them the sort of value for money and customer service that we think is important".
The company has already begun trading, and stocks horse equipment from industry leading brands, organised in five key categories: Rugs, Saddlery, Grooming, Tack and Boots & Safety. Rugs are available from Horsewear Ireland, Amigo, Rhino, Rambo, Rhinegold and John Whitaker, amongst others, while Saddlery products from Rambo and John Whitaker will head the selection. Grooming products include grooming bag kits, tail and mane brushes, curry and dandy brushes, sweat scrapers and hoof picks. Tack products comprise competition bridles, comfort bridles, Mexican bridles, sheepskin lined bridles and leather bridles. Boots and Safety equipment is sourced from Dalmar, Rambo and Rhinegold, amongst others.
A full range of ladies' equestrian clothing is also available from brands that include Musto, Toggi, Lucinda Green, Pessoa and Champion and Horsewear Ireland. Products from Musto, Toggi, Champion and Horsewear Ireland will head the men's equestrian fashion section. The ranges for both men and women cater to both fashionable and practical needs.
Nick McFarland continued, "Competitive pricing is a key aim of HM Equestrian, together with fast dispatch – something that we know is important to horse owners of all levels. By harnessing the knowledge and experience gained through years of horse riding and owning, we aim to grow into one of the UK's leading suppliers of equestrian equipment and clothing. It's fantastic to do something you love, and to help others enjoy an activity they love too – whether they own horses for business of pleasure."
HM Equestrian is now trading and expects to do brisk business over the Christmas period, as well as into 2013.