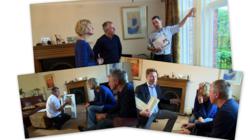 Viewers get a glimpse of the finalists performance as a taster of videos of individual performances that may be viewed early in 2013 on The FIT Show website
(PRWEB UK) 19 December 2012
A video showing the finalists competing for the title of The FIT Show Sales Professional of the Year and the £10,000 first prize, is available on the FIT Show web site at
http://www.youtube.com/watch?v=OhbOVlOLe4k&feature=youtu.be
The video, which was widely praised when unveiled to exhibitors at the recent Exhibitor Briefing Day, shows the finalists presenting themselves and their products to a couple in a large semi detached house in a suburb of Manchester. In fact the couple were actors who were briefed by The FIT Show team and the house was rented for the occasion, selected as an ideal home improvers property.
The finalists - Nick Trigg from Mid Wales Windows; Ed Burgess from Countryside Home Improvements; and Adrian Phillips from Nolan uPVC – each put in fine performances that were described by the man heading the judging of the competition, renowned sales trainer Paul Clifton, as being 'exceptional and totally professional' and 'great examples to the glazing industry'.
Viewers get a glimpse of the finalists performance as a taster of videos of individual performances that may be viewed early in 2013 on The FIT Show website and at The FIT Show when it takes place in April. The winner, who will receive a personal prize of £5,000 with £5,000 going to their employer, will be announced at The FIT Show Gala Dinner which takes place on 17th April during the event.
"The finalists were each very impressive," said The FIT Show's Matthew Glover who is overseeing the competition. "We believe that this competition is the first ever staged to highlight and promote professional skills amongst glazing sales people and we have had tremendous interest. The video offers an excellent taste of what the event is about and what we can expect when the full videos are published in the run up to the Show. In the meantime the tension amongst the three finalists is said to be high whilst they await the decision as to which of them takes what may be regarded as a very nice commission cheque indeed!"
The FIT Show will take place at The Telford International Centre, Telford, on 16th, 17th and 18th April 2013. For more information including full details on how to exhibit and to register for tickets please go to http://www.fitshow.co.uk.