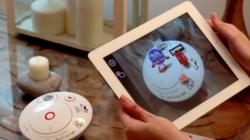 Cyrcle is a magical object that reflects the pulse of your life
Walnut, California (PRWEB) December 17, 2012
Symplio, a technology-based start-up was founded with the aim of exploring new ways to experience the Internet through "live" objects that replace the traditional ones around us, and which are in keeping with the current generation of modern and digitalized users. A new category of intelligent and emotional gadgets arises from this vision, and has materialized with the creation of Cyrcle, that is being launched in the market this Christmas.
Cyrcle is a decorative and informative object connected to the user's digital life, fostering a reinvention of the Internet experience. Users can feel how their family, friends, favorite topics, or meaningful places evolve on the Internet during the day, creating reflections on the real world through Cyrcle. It transforms the users' environment into a social experience.
Through ambient sounds, halos of light, smooth movements and augmented reality, this new product becomes a true representation of what is happening on the user's selection of Facebook, Twitter, Foursquare or Instagram among other applications available.
Cyrcle revolutionizes the use of the Internet and makes people feel connected to their friends and interests - the user will feel accompanied at all times by the things that form part of his life, no need to access each of the websites or applications, but in a more natural and transparent way.
Moreover, Cyrcle allows exploring the information and the contents of the topics in an easy, fast and fun way with the Augmented Reality app, available for any iPhone/iPad or Android device with an integrated camera.
It is an attractive technological device with a stylish design and a carefully crafted aesthetic. Cyrcle can be personalized by hand with drawings, words or stickers on it, but the user can also create his own individualized Cyrcle with a more professional design pre-printed on the surface.
Symplio presents Cyrcle as a project in Kickstarter to introduce it to new users, who can enjoy this new product and help to finance its production through crowdfunding (pre-orders) up until 19 January 2013. Inaki Vazquez, CEO at Symplio explains: "Cyrcle represents a very innovative approach for experiencing the Internet and our digital life. Creating a new kind of product is challenging, so we used Kickstarter to meet this new generation of Internet users empowering them with a new way of expressing themselves."
More information about Cyrcle and its operation on the video and on the product website http://www.mycyrcle.com.
You can download high resolution images and the press release at http://www.mycyrcle.com/press