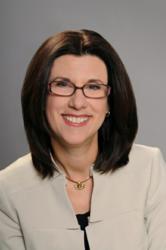 I want to thank Dave Oliker for his years of leadership at MVP, and personally for his friendship and mentoring. Dave has set the tone for MVP's mission-driven focus on providing excellent products and service and promoting healthier communities.
Schenectady, NY (PRWEB) December 17, 2012
The Board of Directors of MVP Health Care today announced Denise V. Gonick has been named President and CEO. Gonick, who has been with MVP 17 years, most recently served as President of Operations, leading the company's transition and day-to-day management since David W. Oliker announced this summer that he would retire.
"After an extensive national search, I am pleased to announce that the best candidate to lead MVP Health Care is already with the company," said Karen B. Johnson, who led the search committee for the MVP Board of Directors. "Denise Gonick fits the profile of the experienced, strategic health care leader we have been seeking to take MVP into the future."
Gonick joined MVP's legal department in 1995. Prior to being named President of Operations earlier this year, she served as Executive Vice President, Administrative Services and Chief Legal Officer. As President of Operations, she has had primary executive responsibility for all aspects of MVP's operations.
As President of Operations, Gonick has worked with MVP's executive leadership focusing on strategic planning, including preparing MVP to participate in the state health insurance exchanges debuting in January 2014. She has been instrumental in successful, ongoing efforts to reduce administrative costs and improve MVP's efficiency and agility in the marketplace. She is recognized throughout the organization for her deep knowledge of the health care industry, critical thinking skills, and strong focus on effective communications, collaboration and employee engagement.
"I appreciate the Board's confidence in me and am delighted to now lead the company where I have grown my career," said Denise Gonick, President and CEO of MVP Health Care. "MVP has both challenges and great opportunities ahead."
"Our number one goal is to help make the communities we serve healthier – that encompasses many coordinated strategies, including preparing to participate in the forthcoming state health insurance exchanges, increasingly leveraging data and informatics, expanding our presence in the Medicaid and Medicare Advantage markets, and building on our culture of customer service excellence," Gonick said.
"As I take on this new role, I want to thank Dave Oliker for his nearly 30 years of leadership at MVP, and personally for his friendship and mentoring during my career here. Dave has set the tone for MVP's mission-driven focus on providing excellent products and service, promoting wellness and building healthier communities," Gonick said.
Oliker has been a champion of creating a sustainable, affordable health care system, focusing on innovation and consumer engagement to increase access and control costs. He plans to remain engaged in the public conversation about health care reform and he will continue to support the transition at MVP until he formally retires.
Prior to joining MVP, Gonick was a member of Empire Blue Cross Blue Shield's legal department. Before that, she spent several years practicing public sector labor law. She is a Trustee of Union Graduate College in Schenectady, where she also serves on the Finance Committee and chairs the ad-hoc Strategic Planning Committee. She was a Trustee of the Schenectady Museum from 2003 until 2011, serving as Co-President of the museum's Board from 2009 to 2010.
She is a graduate of Hofstra University with a bachelor's degree in Creative Studies and earned her JD from Albany Law School. She completed the America's Health Insurance Plans (AHIP) Executive Leadership Program and is a Certified Managed Care Executive (CMCE). In 2006, Gonick was named one of the Business Review's 40 Under Forty business leaders. She lives in Guilderland with her husband and two daughters.
###
About MVP Health Care
Founded in 1983, MVP Health Care is a community-focused, not-for-profit health insurer serving members in the states of New York, Vermont and New Hampshire. Through its operating subsidiaries, MVP Health Care provides fully-insured and self-funded employer health benefits plans, dental insurance, and ancillary products, such as flexible-spending accounts, to more than 650,000 members. For more information, visit http://www.mvphealthcare.com.