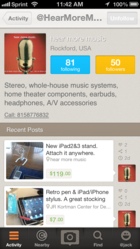 "Our focus on small business is resonating with merchants, consumers and investors," Jack Wrigley
Dallas, TX (PRWEB) December 18, 2012
QWIQQ was named one of the Rice Alliance for Technology and Entrepreneurship's Most Promising I.T. and Web companies at the 10th annual I.T. and Web Venture Forum in Houston last week. Information Technology (I.T.) and Web companies showcased their new ventures at the largest venture capital conference in the Southwest that attracts more than 400 attendees, including investors, venture capitalists, industry representatives, business leaders, service providers, and entrepreneurs.
QWIQQ is a mobile commerce app that allows local merchants to quickly post and sell their products and services, using pictures, prices, and places, while easily sharing to Facebook, Twitter, Foursquare, SMS, Email, and Constant Contact email marketing campaigns.
The one-day event culminated in an announcement of the 10 Most Promising I.T. and Web Companies. QWIQQ was named one of the 10 "Most Promising" Companies and was chosen from more than 40 presenters who were judged by attending investors and business leaders based on the companies' five-minute business plan presentations.
QWIQQ co-founders, Jack Wrigley and John Phan are thrilled to receive the award. "It's nice to be recognized and we are grateful for the support," Phan said. "Our focus on small business and delivering to them a valuable social selling platform is resonating with merchants, consumers and investors," Wrigley added. QWIQQ recently graduated from the 2012 Spring Class of Tech Wildcatters. Wrigley and Phan attribute much of their success to the program. According to Wrigley, "TW has helped us in numerous ways. From mentoring to honing the pitch, the program continues to pay dividends to our company."
Rice Alliance managing director Brad Burke, announced the winners of the Most Promising I.T. and Web Company awards at the event. "Every year the quality of companies improves. This year we had a diversity of companies including several addressing niche social media markets, software that aggregates numerous sites and mobile apps. As a group, the companies this year are further along. Most have developed prototypes, sold to customers, demonstrated results and raised previous funding. This makes them more appealing to current investors, who have commented on the improved quality of the companies. Past start-up company presenters at Rice Alliance venture forums have raised in excess of $2.1 billion. This year's crop of winners is expected to achieve similar results."
QWIQQ will soon release integrated mobile payments on its platform, thus enabling local merchants to close the transaction loop. "Our goal has always been to create a social commerce platform benefitting local merchants. Mobile payment integration will complete the product and be positive for local merchants worldwide," Wrigley said. "With one post, a local merchant will be able to sell across all social platforms – not just QWIQQ. That's very powerful," Phan added.
About QWIQQ
QWIQQ is the leader in social commerce and available for free in the Apple #iTunes App Store and Constant Contact Marketplace. #QWIQQ was featured in the iTunes App Store: New & Noteworthy, What's Hot, Great Free Apps as well as the Constant Contact Marketplace for #SMB's as a Top 5 App. For more information, visit QWIQQ or contact Jack Wrigley at jack(at)qwiqq(dot)me.
About The Rice Alliance for Technology and Entrepreneurship
The Rice Alliance for Technology and Entrepreneurship (Rice Alliance) is Rice University's globally-recognized initiative devoted to the support of technology commercialization, entrepreneurship education, and the launch of technology companies. Since inception, more than 1,400 early-stage companies have benefited from participating at the 140+ programs hosted by the Rice Alliance and raised more than $2.5 billion in funding.
Recent recognition:

2012: #4 Best U.S. Graduate Entrepreneurship Program - Princeton Review and Entrepreneur magazine
2012 and 2011: #14 Best U.S. Graduate Entrepreneurship Program – US News & World Report
2012: #7 Best College for Aspiring Entrepreneurs - Huffington Post and Unigo.com
2011, 2010, 2009: "Top 10" Best U.S. Graduate Entrepreneurship Program – Princeton Review and Entrepreneur magazine
2011 NASDAQ OMX Center of Entrepreneurial Excellence Award – Global Consortium of Entrepreneurship Centers (GCEC)
2011 National Model MBA Entrepreneurship Program – U.S. Association for Small Business & Entrepreneurship (USASBE)
2011, 2009 Marketer of the Year - American Marketing Association – Houston Chapter
2009 Outstanding Center for Entrepreneurial Leadership - GCEC
2009 Outstanding Technology Entrepreneurship Program – USASBE
2009 Houston's Greatest Economic Development Ally – Greater Houston Partnership