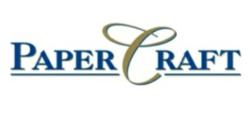 This time of year is a special time to reward those around you and make them feel appreciated. Since we have an extensive online catalogue from which to give presents, we decided to help our clients make the most of their own gift giving budgets
Fairfax, VA (PRWEB) December 18, 2012
PaperCraft, Inc., Northern Virginia's leading commercial printer focused on business printing, branding, and office supply has announced their End of Year Promotion in recognition of their strong relationships with all their clients ranging from Manufacturing, Government Contractors, Law Firms, Trade Associations, Hospitality and more. In order to celebrate the season, PaperCraft will be offering significant discounts and special offers through mid-January.
Lang Gibson, National Sales Director explains, "This time of year is a special time to reward those around you and make them feel appreciated. Since we have an extensive online catalogue from which to give presents, we decided to help our clients make the most of their own gift giving budgets."
PaperCraft's line of promotional items offers a wide range of gifts and ideas for all budgets. Whether rewarding a new or existing client, enjoy the promotions on PaperCraft's Ad-Specialty or corporate gifts catalog:

30% off all Electronics.
25% off all USB Keys and keychains.
20% off all Stress Balls.
20% off all Mugs and Tumblers.
This End of Year Special runs through January 15th, and ordering is easily handled through the website or by calling the experienced printing and promotions staff. The team at PaperCraft wishes everyone a safe and happy holiday season and a prosperous New Year.
About PaperCraft, Inc. PaperCraft Inc is a premier Fine Printing and Branding company, family owned and operated for more than two decades. Their commitment to service excellence combined with technical expertise places them at the head of their industry making PaperCraft the one of the leading printers in Virginia. Contact one of their experienced specialists today: 703-978-6500 or visit http://www.papercraftinc.com.