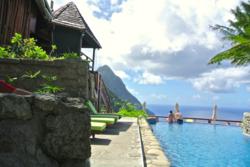 The Video features the magnificent Pitons viewed from Ladera Resort. They are Volcanic plugs that stand a couple of thousand feet high right out of the sea.
Castries, St. Lucia (PRWEB) December 21, 2012
Visitors to St. Lucia do not need to spend a small fortune to enjoy the most exclusive resorts on the island. One can dine, dance, visit, swim and indulge the senses at the premier exotic resorts on the island such as Ladera Resort or Jade Mountain, all from the comfort of an affordable and convenient top rated private villa-apartment at Poinsettia. http://www.youtube.com/watch?v=xSmUncZZkqY
The villa apartments at Poinsettia are accessible to everything on the island at a price everyone can afford. From here one can rent a car and explore the island, take tours or step onto a sailing boat at the foot of the hotel at Ganters Marina.
A trip to Soufrière, the volcano and the Pitons is a must and visitors will be welcomed to dine at some of the most elegant and luxurious resorts in the world, without having to pay over $1000 US per night to stay at the top resorts in the Caribbean.
Ladera Resort is perhaps the best seat in the house when it comes to viewing the magnificent Pitons in St. Lucia, the island's most famous and popular attraction.
It is one of the top sites recommended to guests staying at http://www.PoinsettiaApartments.com where the motto is: "Stay in comfort and explore in style".
Poinsettia's guests can enjoy the facilities at this and other luxury resorts, stop in for lunch and feel right at home as a visitor of Poinsettia where the rates are affordable and the accommodation is comfortable, spotlessly clean and accessible.
Poinsettia Apartments offer accomomdation from $120 a night for a one bedroom apartment in summer to $185 for a two bedroom apartment in winter. The villa apartments are centrally located and the Pitons, with their famous resorts, can be reached with a leisurely boat ride from the foot of the property. It's an hour away by car and Poinsettia negotiates fair rates with car rental companies for its guests. Indeed the management has negotiated many special rates for island activities for guests of Poinsettia.
"When you get here, you'll want to hire a car, see the island, dine out at its gourmet sea-side restaurants and enjoy the tours, boating and adventure activities of Saint Lucia", says Margaux Daher an owner/manager of Poinsettia. "Fortunately, we can help you with that as well, with our special rates on car hire and activities for our guests. At the end of your trip, come back to your home away from home at Poinsettia".
Since a stay at Poinsettia will not cost thousands, a visit to St. Lucia is now within reach of far more people. Guest can save money on lodging, allowing them to spend more on seeing the sights and activities elsewhere. The video shows the accommodations at Poinsettia and features the breathtaking scene from an infinity pool at Ladera St. Lucia.
"We made this video to show people exactly what they can expect from a stay in St. Lucia," said Margaux. "The video features the magnificent Pitons viewed from Ladera Resort. They are volcanic plugs that stand a couple of thousand feet high right out of the sea. It also shows you exactly how convenient and comfortable the apartments are for your St. Lucia holidays."
St. Lucia is a UNESCO World Heritage Site and one of the premier holiday destinations around. Come find out why so many people visit here year after year.
ABOUT
The trip to the Pitons and lunch at Ladera Villa Resort is a recommended tour for Poinsettia guests. Poinsettia is a family owned and managed villa apartment residence. There are Seven (7) one bedroom and two bedroom units available for rent for long term St. Lucia living and vacations.
http://PoinsettiaApartments.com | http://www.youtube.com/watch?v=xSmUncZZkqY
Video By RealHolidays.TV