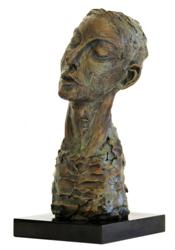 "Sleep is like a temporary death" - Bob Dylan "Workingman Blues #2"
West Palm Beach, FL (PRWEB) December 21, 2012
Cheri Mittermaier was attending a sculpture workshop in West Palm Beach a few years ago. The model in attendance was a beautiful woman with really short hair. Cheri started to build her sculpture. With the model having a very short hairstyle, she realized that by narrowing the chin and giving her art a hint of an Adams apple, the viewer would not know if it was male or female. As Cheri was continuing to work on the piece, she became aware that if she were to proceed further and smooth out the tool marks, it would be ruined. Mittermaier loves the look of her art with an unfinished surface.
When some look upon Dreamer they think it is a woman, a lesbian, a man or a gay man.
This sculpture solidified her work as an impressionist. She strives to show minimal execution in the construction of her sculptures. While working on the piece, Cheri lets her subconscious take over and the end result is a sculpture that is thought provoking to the viewer. She has been greatly influenced by the impressionists. Mittermaier is so moved by the effect of minimal paint strokes and what was achieved by some of the great impressionists. For example, a few light brush strokes on a canvas and you have the suggestion of a figure.
The sculpture "Dreamer" has been exhibited in a few shows. Just recently "Dreamer" was a part of "Cutting Edge" Masters Of Contemporary Art Exhibition. This international exhibition was curated by Viviana Puello, Director of Vivid Arts Network and the director of ARTtour International Magazine. The venue took place at the Auditorium al Duomo in Florence, Italy from December 1st through December 10, 2012. This event was comprised of 30 master artists from all over the world and their art from many different disciplines. Cheri was very fortunate to be able to participate in this wonderful exhibit in person.
Cheri Mittermaier was born in 1963 in Indiana. She graduated from Purdue University with a Bachelors degree in Psychology with a concentration in Fine Arts and Humanities. While in Paris (2009) and Florence (2010) Cheri studied sculpture under Martine Vaugel and Peter Rubino. In a four year period Mittermaier has studied under more than twenty different artists. Cheri's work has been influenced by her extensive travel. She currently lives and works in West Palm Beach, Florida USA.