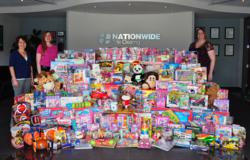 In the spirit of the season, this year we decided to donate a substantial portion of the money we normally use for holiday gifts to the Toys for Tots foundation
PALM HARBOR, FL (PRWEB) December 17, 2012
The group that tracks charitable giving expects donations in Florida will have risen slightly after last year's $1.26 billion in philanthropic giving, according to sunsentinel.com (1). Nationwide Title Clearing, Inc. (NTC), a leading service provider for the residential mortgage industry with clients that include eight of the top 10 residential mortgage servicers in the country, is adding to that number by slashing the company's own holiday budget to, instead, give back to its local community. This year a total of 224 toys were delivered to Toys For Tots from donations provided by NTC and its employees.
This year was particularly crucial for local businesses to hold toy drives. According to the Tampa Bay Times, toy donations were so low that Toys for Tots officials still worry they won't have enough gifts for the estimated 40,000 boys and girls on their lists (1). That's partly due to the Postal Service, who stopped distributing free fliers providing details on donation pick-ups. Separately, the toy drives planned during Tampa Bay Lightning games were cancelled because of the hockey lockout.
"In the spirit of the season, this year we decided to donate a substantial portion of the money we normally use for holiday gifts to the Toys for Tots foundation," commented John Hillman, CEO of NTC. "We want to bring joy to the children and families of the Tampa Bay area."
Toys for Tots is not the only charity that the Palm Harbor company decided to benefit. NTC's most recent efforts included sponsoring an art tent at the 38th Annual Fine Arts and Crafts Festival, hosted by the Greater Palm Harbor Chamber of Commerce. Art supplies were donated so that over 400 holiday crafts could be made by the children who attended the event.
NTC's community activities have been increasing as they have been hiring more employees. As a large Palm Harbor employer that performs land records research, reporting services and document processing for the residential mortgage servicing industry, NTC has added 143 employees in 2012, with 50 in the last quarter alone. Employees sign up to spend hours of their time volunteering at various charity events around the Tampa Bay area, including food, clothing and blood drives.
"It's nice to belong to a company that cares about others," Tammy Judd, an NTC recorded document follow-up specialist. "It's one of the reasons why I wanted to work [at NTC]." Out of NTC's 300-plus employee roster, more are joining the ranks of community volunteers.
For more information, visit http://www.nwtc.com.
About Nationwide Title Clearing, Inc.:
Based in Palm Harbor Florida and founded in 1991, Nationwide Title Clearing, Inc. (NTC) is a privately-owned leading service provider to the residential mortgage industry, serving mortgage lenders, servicers and investors, including eight of the top 10 residential mortgage servicers in the country. NTC earned the position of #2,730 on the 2012 Inc. 5000 list of fastest-growing private companies in America, ranking #36 in Tampa and #46 in the real estate industry. The company's land records and document experts are able to track and fulfill county document requirements for close to 3,600 recording jurisdictions nationwide. NTC specializes in providing land records research, lien release services, assignment services, final document tracking, document retrieval and other custom business solutions. For more information, visit the company's website at http://www.nwtc.com.
(1) Kent, Cindy. Sunsentinel.com. December 10, 2012. "South Florida's 'other' season: Holiday giving," http://www.sun-sentinel.com/business/fl-seasonal-giving-20121210,0,789940.story