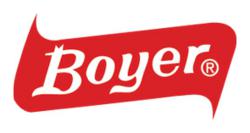 "We at Boyer are committed to preserving our company's traditions as well as the childhood memories of our loyal customers."
Altoona, PA (PRWEB) December 18, 2012
In an effort to boost the economy Boyer Candy announced today for the first time in 77 years that they will double its redemption of Play Money from $1 to $2, effective immediately. Since 1936, The Boyer Candy Company, makers of the Mallo Cup has been packing Play Money under its nostalgic pieces of candy. The Play Money has a point system the ranges from 5 to 50 points. When 500 points are saved, Boyer will send a rebate check for $2, or an assortment of other prizes.
Play Money is believed to be the longest running rebate program on record. "It is truly a sign of the times" quoted by Anthony Forgione II, President. "We at Boyer are committed to preserving our company's traditions as well as the childhood memories of our loyal customers." "We also feel we are doing our part to help the economy."
The history of the Play Money started with the consumer receiving a box of candy. Through the years the cards changed to the spelling out of the word M-A-L-L-O C-U-P for a prize. In 1986 the Play Money program expanded to include a complete prize program (available on http://www.boyercandies.com). Today 5 ½ % of all Play Money is redeemed nationwide. In 2004 a customer from Ohio sent in 100,000 points and received a check for $200. Today he would have received $400 (That's a lot of candy!)
For more information on Boyer's Play Money Program, please visit our website at http://www.boyercandies.com. High resolutions photos and additional jpegs are available upon request.