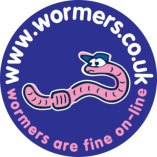 This competition comes at a time when Wormers.co.uk is expanding its reach in the run up to Christmas.
(PRWEB UK) 19 December 2012
Wormers.co.uk, the UK's most loved supplier of worming and other pet health products, have extended their competition to win a Horsey Hamper worth £150 throughout December. Entering the competition could not be simpler, as anyone who likes the wormers.co.uk Facebook page will be automatically entered into the prize draw. As well as this, by liking the page, customers will also get regular tips and tricks, special offers and information about horses and worming, such as the Horse breed of the week as well as regular funny pictures too.
This competition comes at a time when Wormers.co.uk is expanding its reach in the run up to Christmas. The company has been working alongside local SEO company SEO Traffic Lab in order to expand their Social Media presence. Along with their newly expanded Facebook page, Wormers.co.uk are pleased to announce their new Twitter account, where followers can hear about the latest in the equine world as well as competitions and news of special offers. The company can be found on the handle: @WormersUK.
The move to team up with SEO Traffic Lab comes as Wormers.co.uk expands into the new year. After their recent success at 'Your Horse Live', the recent horse show that took place in Warwickshire, the company has been pushing the need for more preventative measures to keep worms at bay. Their customers are being urged to not just rely on treatment but to take part in active pasture management programs and regular testing.
As well as worms, it's important to take care of a horse's health from every angle and so wormers.co.uk also offers many different health products aimed at keeping pets and animals in the best possible condition. From feed supplements to fly repellents, as well as general health care products, Wormers.co.uk supply everything needed at the wormers.co.uk webshop, with pet care products for all kinds of hairy, furry or feathery animals too, including livestock worm treatments.
About Wormers.co.uk
Wormers.co.uk came into life from the local pet health store Beeston Animal Health. Based in Cheshire, the store has been catering to the needs of its varied customers for decades and wormers.co.uk, one of the first sites specialising in worm treatments, came into being back in 2000. The company are committed to quality and as such, all their staff have gained the AMTRA (Animal Medicines Training and Regulatory Authority) qualification, so their customers can be sure of the right information.